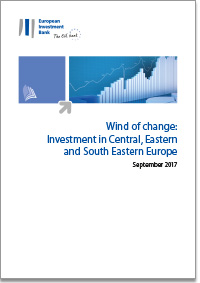 Description
The report aims to shed some light on developments in investment activity and investment finance in CESEE over the last twenty years from both macro- and microeconomic perspectives.
We pursue in particular questions of why and where investment has declined in the period after the financial crisis, and whether changes in investment and output have been cyclical or structural.
In addition, we address the question of whether countries in the CESEE region have been investing enough and where there are possible country-specific investment gaps and structural needs.
We employ different analytical approaches to estimating the investment gap. Another original contribution of the report is the use of results from the EIB corporate survey on investment and investment finance for the microeconomic analysis of firms' investment behaviour.
In addition, we combine this analysis with the EIB bank lending survey, which maps credit demand and supply developments in the CESEE region. The report concludes with policy conclusions for the region.