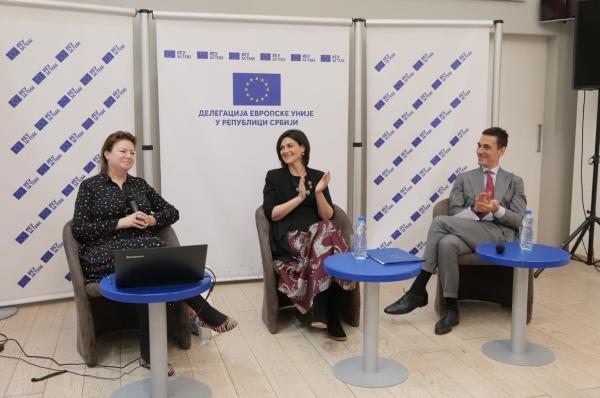 At the premises of the EU Info Centre in Serbia, the European Investment Bank (EIB) Institute unveiled a unique opportunity for young artists in the Western Balkans under the Artists Development Programme, which has been opened up to enlargement countries for the very first time. Selected artists from EU candidate countries will be able to receive mentorship and a residency at the Cité internationale des arts in Paris.
"This is a unique programme offering not only a three-month stay in Paris, but also a mentorship experience enabling the young artists to develop their skills alongside experienced and recognised European artists," said Delphine Munro, head of arts and culture at the EIB Institute.
Alessandro Bragonzi, head of the EIB regional representation for the Western Balkans, highlighted the EIB's long-standing support for education and scientific research in the Western Balkans, sectors in which it has invested over €415 million to date. Earlier this month, the Artists Development Programme was also presented in Skopje in cooperation with the EIB representation office and the EU Delegation to North Macedonia. The programme has supported 34 young artists to date, with 44 bodies of work acquired by the EIB for its rich collection of contemporary art.
"We are proud to support a cultural programme and initiative that encourages human development, art and creativity, which are a reflection of the social and intellectual progress of each country. Young and talented people are the leading force behind that process and it is a pleasure to support social, cultural, artistic and innovative potential," said Bragonzi.
The European Union has been supporting and investing in the development of the creative industry in Serbia for many years, and the EIB programme is an excellent opportunity for young artists to develop their practice and gain more traction and visibility. Protecting and promoting cultural heritage, and supporting the creative industries, are an integral part of the European Union's mission in Serbia. It recognises the importance that Serbian cultural heritage has for Europe and the world, and so far more than €173.7 million have been invested in the creative industry.
"Paris is a city that has inspired countless artists from different parts of the world and is considered a symbol of creativity and the home of the artistic community. This programme involves the creation of artistic and creative threads that connect us and make us Europeans. Art builds bridges, makes us grow and learn from our own differences, thus creating space for true creativity," said Deputy Head of the EU Delegation to Serbia Plamena Halacheva.