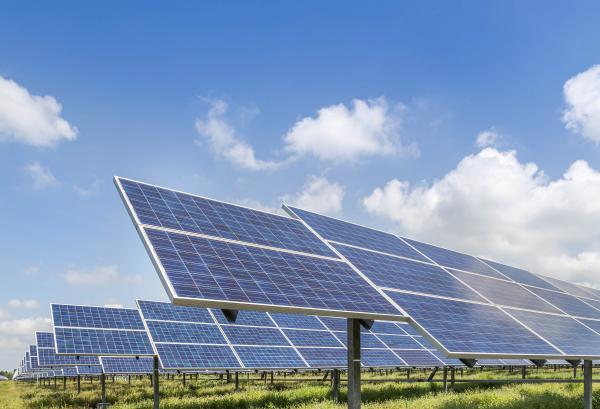 The project will contribute fully to climate change mitigation and will include rural areas.
The funds will go to install solar photovoltaic equipment in homes, SMEs and other small-scale buildings.
The European Investment Bank (EIB), the world's largest multilateral public bank, has signed an agreement with Banco Cooperativo Sicredi, a cooperative financial institution operating throughout Brazil, to promote the use of renewable energy in the country. At a ceremony in Brasilia, EIB Vice-President Ricardo Mourinho Félix and Sicredi CEO César Bochi signed a loan for €200 million that Sicredi will use to finance the installation of photovoltaic panels on homes, small and medium-sized businesses, and rural properties.
The entire project will contribute to climate change mitigation in terms of the EU taxonomy. It will help Brazil pursue its targets for more renewable energy sources in annual electricity generation, furthering its ten-year national energy expansion plan. Furthermore, by supporting this low-size market segment, the operation will reduce electrical losses and optimise grid usage.
"I'm very glad to announce a project that enables private sector investments in renewable energy, reduces carbon emissions and air pollution, and supports additional renewable generation capacity in Brazil. The EIB is a natural partner for Brazil with its ambitious climate agenda, and I am proud to see cooperation between Europe and Brazil growing through projects like this," said EIB Vice-President Ricardo Mourinho Félix.
Ignacio Ybáňez, Ambassador and Head of the EU Delegation to Brazil, added, "The EIB signing a loan with Banco Sicredi further highlights the Team Europe approach for a green and resilient future in Brazil, underpinning the EU Global Gateway strategy. It also proves the European Union's commitment to sustainable growth and to strengthening the resilience of Brazilians, and is a clear demonstration of the Team Europe spirit to work for the benefit of our Brazilian partners."
"We have recently signed several agreements to raise funds abroad in order to promote investments in projects that help reduce climate impacts while generating financial savings for our members. The EIB is settling in the country, and offers a very important opportunity for us to expand this work. We hope this will be the first of many joint actions in support of the environmental, social and governance agenda," said César Bochi, CEO of Sicredi.
Sicredi is a cooperative financial institution with more than 6.5 million members and 2 500 branches in 1 800 municipalities across all regions of Brazil. In over 200 cities, it is the only financial institution physically present. Currently, the institution holds a credit portfolio of about €1.1 billion.
Background information
About the EIB
The EIB brings the experience and expertise of our in-house engineers and economists to help develop and appraise top quality projects. As an AAA-rated, policy-driven EU financial institution, the EIB offers attractive financial terms — loans at competitive interest rates, and with durations aligned with the projects they finance. In addition, through our partnerships with the European Union and other donors, we can often provide grants to further improve the development impact of the projects we support.
About EIB Global in Brazil
The EIB is the largest multilateral public bank in the world. In 2022 it created a new arm for activities outside the European Union, EIB Global, which financed around €10.8 billion in investments beyond Europe in its first year of existence. Brazil is the biggest beneficiary of this and other EIB financing in Latin America, representing around 40% of the Bank's portfolio for the continent. Since it started working in Brazil in 1997, the EIBf has provided over €5.4 billion to finance investments under favourable conditions — in terms of both maturity and interest rates — with the aim of improving residents' quality of life.
About EIB Global in Latin America
EIB Global has been lending economic support for projects in Latin America since 2022, facilitating long-term investment with favourable conditions and providing the technical support needed to ensure that these projects deliver good social, economic and environmental results. Since the EIB began operating in Latin America in 1993, it has provided total financing of around €13 billion to support more than 150 projects in 15 countries in the region.
About the Global Gateway initiative
EIB Global is a key partner in the implementation of the European Union's Global Gateway initiative, supporting sound projects that improve global and regional connectivity in the digital, climate, transport, health, energy and education sectors. Investing in connectivity is at the very heart of what EIB Global does, building on the Bank's 65 years of experience in this domain. Alongside our partners, fellow EU institutions and EU Member States, we aim to support investment of €100 billion, around one-third of the overall envelope of the initiative, by the end of 2027, including in Brazil and Latin America.
About Sicredi
Sicredi is a cooperative financial institution committed to the growth of its members and the development of the regions in which it operates. Its management model values the participation of its more than 6.5 million members, who are the owners of the business. With more than 2 500 branches, Sicredi is physically present in all Brazilian states and the Federal District, providing a full range of financial and non-financial solutions.