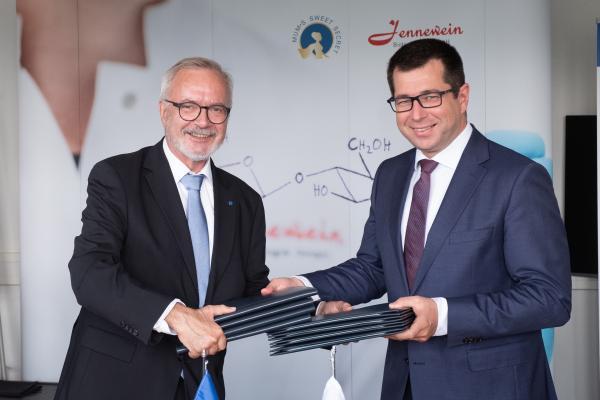 EU bank advances EUR 15m to German biotechnology company
Financing is backed by Investment Plan for Europe
The European Investment Bank (EIB) is providing new financing of EUR 15m to Jennewein Biotechnologie GmbH, a highly innovative German company offering a breakthrough technology for the production of rare functional sugars for a wide range of applications, including nutritional, pharmaceutical and cosmetic products. The company is also a leading manufacturer of human milk oligosaccharides (HMOs), which form an essential part of human mother milk and have been shown to have beneficial health impacts.
The EU bank's loan is backed by a guarantee from the European Fund for Strategic Investments (EFSI). EFSI is an essential pillar of the Investment Plan for Europe – also known as the Juncker Plan – under which the EIB and the European Commission are working together as strategic partners and the EIB's financing operations are boosting the competitiveness of the European economy.
The President of the European Investment Bank, Werner Hoyer, stated: "The EU bank supports in Europe many activities which by nature are riskier and therefore often face difficulties in accessing finance. We, as the EU bank, can provide these funds to address the needs of small and innovative companies, as we are backed by the European Fund for Strategic Investments. This clearly demonstrates the added value that the Juncker-Plan brings to the European economy to foster growth and jobs."
Jennewein will use the new financing to build a R&D centre to continue expanding its HMO product portfolio, and it will also will upscale its production capacity. Stefan Jennewein, founder and CEO of Jennewein, emphasised that being on a new and very innovative market, commercial banks were not prone to invest in his business while the EIB was there to make sure his development plans come true." With this loan the European Investment Bank has given us her trust and the chance to conquer furthermore the market of human milk oligosaccharides. With the help of the EIB we can invest in the future, it means in our production and a new R&D research center" says Stefan Jennewein on the occasion of signing the contract in Rheinbreitbach.
European Commissioner Vytenis Andriukaitis said: ''As the  EU Commissioner for Health and Food Safety and a former doctor, I know the positive impact that research, innovation, including in biotechnology, can have on our nutrition and good health, particularly those of infants and young children. I am happy to see that the Investment Plan for Europe is really working and boosts research and innovation for the health of EU citizens."