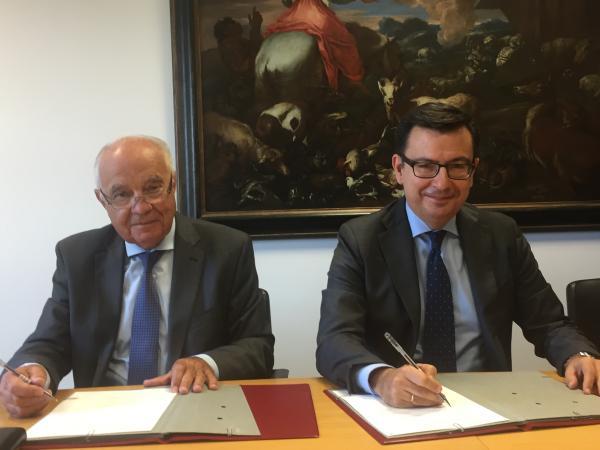 The European Investment Bank (EIB) is granting EUR 29 million loan to support the investment programme of Sonorgás aimed at expanding its natural gas distribution networks to new areas in northern Portugal. These investments will increase and improve the security of energy supply in the country and contribute to economic growth and job creation in an EU cohesion region. The agreement was made possible by support from the European Fund for Strategic Investments (EFSI), the central pillar of the European Commission's Investment Plan for Europe, the so-called "Juncker Plan", and signed in Lisbon by EIB Vice-President Román Escolano, and Sonorgás CEO Nuno Afonso Moreira.
Sonorgás's expansion project will enable small, previously unserved municipalities located in northern Portugal to gain access to the natural gas supply so that they can benefit from cleaner energy. The investments financed by the EIB will contribute to the construction of 220 km of new distribution pipelines and 19 liquefied natural gas storage stations. As a result, Sonorgás expects to increase its number of customers from 16 000 to more than 40 000 over the next three years.  
The increased number of natural gas networks in Portugal will have a positive environmental impact. The project will contribute to reducing greenhouse gas emissions by replacing polluting energies such as fossil fuel-based electricity and liquefied petroleum gas (LPG). The agreement will also create an additional source of energy supply for Portugal's northern municipalities, thus fostering energy security in the country and helping to maintain safety standards.
The planned investments will have an employment creation effect: the project is expected to employ more than 900 people during the implementation stage and Sonorgás foresees the creation of 40 new permanent posts for skilled workers. Thanks to the support of the Investment Plan for Europe, the company will benefit from the EIB's advantageous financial terms, which will contribute to ensuring its competitiveness in a key sector of the economy.
At the signing ceremony, EIB Vice-President Román Escolano stated: "Economic growth and employment creation are among the EIB priorities and today´s agreement will contribute to promoting social, economic and territorial cohesion in Portugal. The expansion of the natural gas network in the northern Portugal will have a positive impact on the life of many Portuguese citizens, and it will bring environmental benefits by improving access to cleaner and safer sources of energy''.     
Carlos Moedas, European Commissioner for Research, Science and Innovation, said: "This deal will create jobs, give a boost to local economy, increase energy security and benefit the environment. This is exactly what the Commission's Investment Plan is about and Portugal has benefitted greatly since it was launched. Operations worth over 1.2 billion have already been approved in Portugal and are expected to trigger around EUR 4 billion of investments".
Nuno Afonso Moreira, CEO of Sonorgás, added: "This is an investment that will have a positive environmental impact, bring a better quality of life to thousands of households and generate development in the northern area of Portugal. Due to this important investment in the territory will become more attractive and competitive, allowing new industries to thrive and, consequently, boosting the creation of new jobs. This is a strategic investment for Sonorgás and we are very pleased to have a core project being developed within the scope of the Investment Plan for Europe".