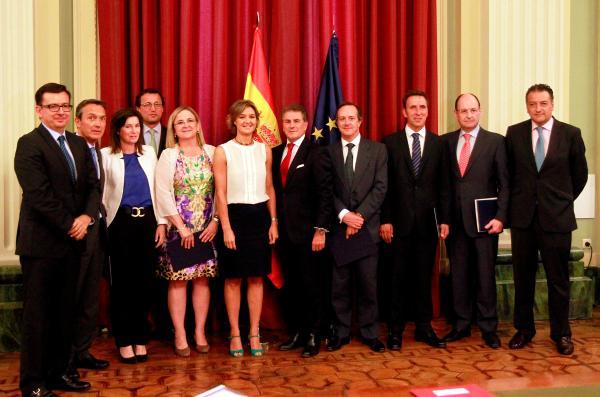 The European Investment Bank (EIB) is renewing its support for agri-food businesses with a EUR 600 million line of credit to financial institutions aimed at small and medium-sized enterprises in the agriculture and agri-food sectors.
The loan agreement was signed in Madrid today by the EIB and representatives of the different financial institutions at the headquarters of the Ministry of Agriculture, Food and the Environment, in the presence of Minister Isabel García Tejerina.
EIB Vice-President Román Escolano said that "with this third EIB loan earmarked exclusively for boosting access to finance for investments in the agriculture and agri-food sectors, the EIB is once again demonstrating its firm commitment to supporting Spain's smaller businesses." He added that "these targeted credit lines have shown themselves to be enormously efficient in meeting the needs of the sectors concerned, at a key time for consolidating the economic recovery, which is why the EIB has already pumped EUR 1 550 million worth of dedicated lines into the agriculture and agri-food sectors in the past three years".
The EIB loan will be channelled to agricultural and agri-food SMEs via eight financial institutions: Banco Santander, BBVA, CaixaBank, Bankia, Banco Sabadell, Banco Popular, Bankinter and ICO. These will match the funds made available for SMEs in the sectors by the EIB with the same amount, meaning that a total of EUR 1.2 billion will be injected into the economy through this operation.
Small and medium-sized businesses, including independent firms and cooperatives, in different parts of the agriculture and agri-food sectors (e.g. arable, cattle, forestry, fisheries, the agri-food industry and wholesale trade) will be eligible for this loan.