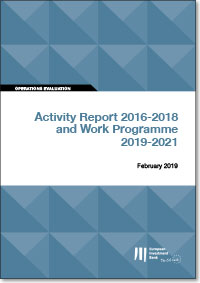 Click here for the newest edition of this publication.
The report highlights the evaluations of the EIB Group's activities completed in 2016, 2017 and 2018 and the ongoing effort to foster an evaluation culture within the institution. EIB's independent evaluators are currently looking closely at the our cohesion lending, our support for urban mobility in the EU, and at the EIB Group's Risk Enhancement Mandate (EREM).
The report also outlines the work programme for the upcoming years. In 2020 and beyond, the evaluators will examine the EIB Group's support to small and medium-size businesses, the EIB Group's Strategy on Gender Equality and Women's Economic Empowerment and the Bank's financing of public-private partnerships, among others.