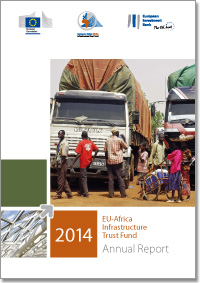 Click here for the newest edition of this publication.
Description
This report covers all the operations financed by the EU-Africa Infrastructure Trust Fund in sub-Saharan Africa. It provides details on the 10 grants, totalling EUR 59.8 million, which were approved in 2014 as well as statistics on all 95 grant operations totalling just over EUR 536 million, that have been approved since 2007 and which are expected, based on current trends, to mobilise investments of 15 times the value of the grant funding.
Please note that a new version of the PDF has been uploaded on 09/09/2015.