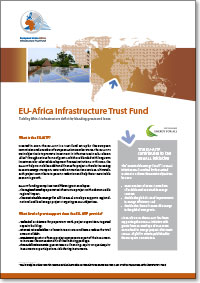 Click here for the newest edition of this publication.
Description
The
EU-AITF
, which celebrates its 10th anniversary this year, aims to promote investment in infrastructure in Sub-Saharan Africa through various forms of grants which are blended with long-term investments by selected development finance institutions.
In this way, the EU-AITF helps to mobilise additional finance for projects, thereby increasing access to energy, transport, water and communications services.