Other publications you may like...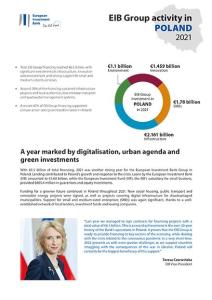 With €6.5 billion of total financing, 2021 was another strong year for the European Investment Bank Group in Poland. Lending contributed to Poland's growth and response to the crisis.
The European Investment Bank adopted its first Strategic Approach to Fragility and Conflict. It outlines the bank's vision and approach to working in fragile and conflict affected contexts, with the aim to enhance EIB's development impact.
Resources for development finance are limited. Find out how we work with trust funds – to help get the most out of those resources and make a positive impact in the developing world.