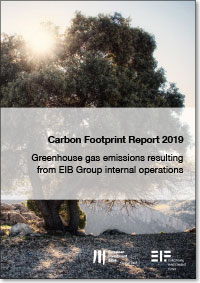 Click here for the newest edition of this publication.
Description
The EIB Group has been measuring and managing the environmental impact of its operations since 2007. In that time we have grown to meet the needs of European citizens (and beyond) by providing sustainable finance to tackle Climate change across the globe. In 2019 the EIB Group has improved its Carbon footprint and reduced emissions resulting from its internal operations.
In 2019, the relative carbon footprint per employee fell by 6.0% to 5.41 tCO2e per employee. At the same time, the Group's total net carbon footprint decreased by 4.4% to 21,434 tCO2e. This reduction is mostly driven by a decrease in business travel, commuting and data centres (Green IT).