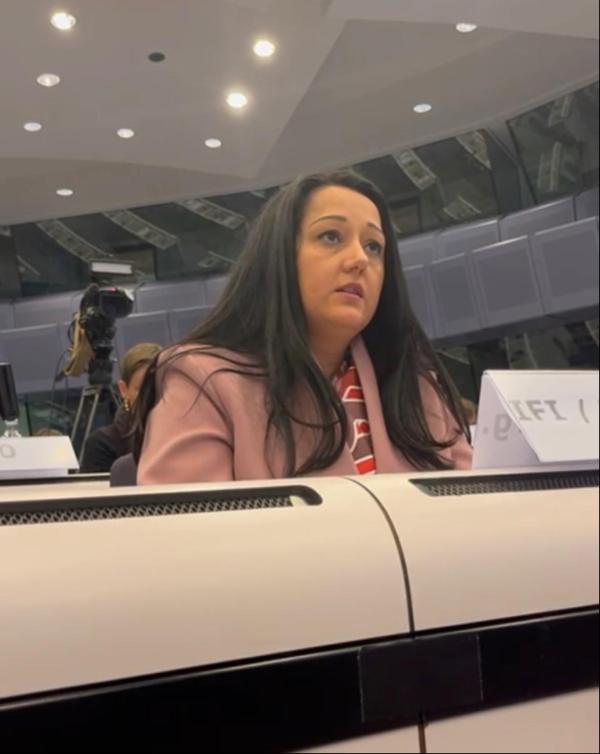 EIB Vice President Pavlova details comprehensive EIB Group response for post-earthquake recovery and reconstruction at Brussels conference
EIB shareholders to consider providing up to EUR 500m to accelerate infrastructure reconstruction, investment in earthquake proof building and business recovery
EIB advisory experts ready to support project preparation and European Investment Fund business financing programme under discussion
EIB Group to work closely with Turkish and international partners to maximise support for infrastructure recovery and restoration of vital services
The European Investment Bank today outlined details of a comprehensive earthquake reconstruction and recovery package of up to EUR 500 million new financial support, within the European Union's overall response, at the Donors' Conference for the People of Türkiye and Syria convened in Brussels by the European Commission and Swedish Presidency of the European Council.
The EUR 500 million support from EIB Global, part of broader European Union financing unveiled at the conference, follows a EUR 500,000 humanitarian donation made by the European Investment Bank within days of the earthquake to a reputable organisation providing shelter and basic immediate relief to impacted communities in both Türkiye and Syria.
Speaking in the pledging session of the conference, Lilyana Pavlova, Vice President of the European Investment Bank said, "On behalf of the European Investment Bank Group I express my deepest sympathy and solidarity for the people of Türkiye and Syria following the devastating and tragic earthquake on 6th February. The European Investment Bank Group joins all partners at today's Donors' Conference in seeking to provide long-term support to rebuild homes, business and communities in the years ahead. Once assessment of specific needs and the EIB's detailed response is confirmed we will recommend that the EIB's 27 EU member state shareholders approve a comprehensive EUR 500 million package to support reconstruction of housing and infrastructure and help business to recover, as part of the European Union's targeted support for the devastated region, and in close coordination with Turkish partners and international donors."
Supporting earthquake resilient reconstruction
Subject to approval by the EIB's Board of Directors, the EIB Global response package will help to restore basic living standards for more than 1.7 million refugees impacted by the earthquake, including dedicated support to repair damaged infrastructure and investment in earthquake resilient buildings that can better withstand future tremors through a dedicated post-disaster recovery loan programme.
European Investment Bank technical and sector experts will support project preparation and implementation of the infrastructure recovery programme.
Helping towns, cities and business to recover
EIB Global support is also expected to include targeted financing for towns and cities in Turkish regions directly affected by the earthquake to restore essential services and repair infrastructure.
The European Investment Fund, part of the EIB Group, is currently examining local business investment needs and evaluating the deployment capacity of local financial partners to strengthen the impact of a dedicated earthquake recovery business financing guarantee initiative.
Coordinating long-term recovery investment with Turkish and international partners
Deployment of EIB Global support for infrastructure reconstruction and business financing will be coordinated with the European Commission, international donors and Turkish authorities to identify the most important and effective support.
Targeting recovery support in Türkiye's earthquake hit regions
The European Investment Bank Group's earthquake response outlined today will focus on Turkish regions directly impacted by the earthquake and is designed to maximise targeted support for restoration of basic infrastructure and basic services, recovery of economic and business activity and ensuring that new investment can both better withstand future earthquakes and adapt to a changing climate.
Subject to approval by the EIB's governing bodies the new financing is expected to support reconstruction efforts over the coming four years.
EIB Global is the EIB Group's specialised arm dedicated to increasing the impact of international partnerships and development finance.  EIB Global is designed to foster strong, focused partnership within Team Europe, alongside fellow development finance institutions, and civil society. EIB Global brings the Group closer to local people, companies and institutions through our offices across the world.