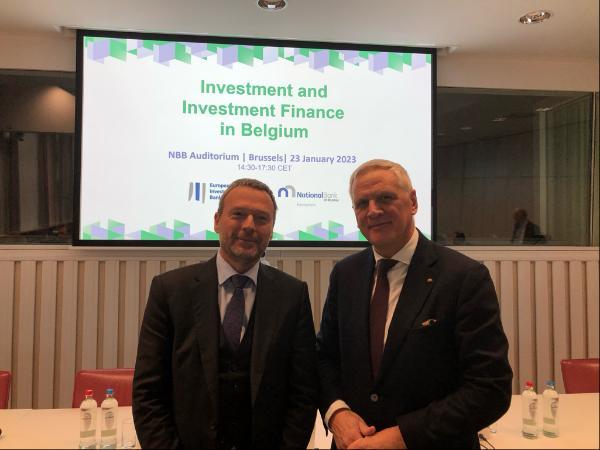 EIB investment survey shows Belgian companies worry about climate change and have a gloomy economic outlook despite having navigated the pandemic better than expected.
Highlights of the survey show that energy costs are a key constraint on investment for Belgian firms, together with uncertainty and the availability of skills.
Three-quarters of Belgian firms use advanced digital technologies (well above the EU average) and over half accelerated their digitalisation as a response to COVID-19.
The European Investment Bank (EIB) launched its annual investment survey at an event organised with the National Bank of Belgium today. Keynote speeches by EIB Vice-President Kris Peeters and National Bank of Belgium Governor Pierre Wunsch, as well as presentations by staff of both institutions, described the state of the Belgian economy and companies' perceptions of the challenges they face. The survey interviewed over 12 000 companies across the European Union (including 482 in Belgium) and 800 US firms.
One of the main results of the survey is that over half of all companies in Belgium (53%) report that weather events have an impact on their business. Belgian firms are nevertheless addressing this issue and are more likely than the average EU firm to have an adaptation strategy for physical risks (19% vs. 14%) and to have invested in solutions to avoid or reduce exposure to physical risks (26% vs. 20%).
Further key points include that the corporate sector navigated the pandemic better than expected, but the economic outlook has been turning fast, testing firms' resilience. As expected after the Russian invasion of Ukraine and its effect on the energy sector, the cost of energy is a key constraint for firms, together with uncertainty and the availability of skills. However, 42% of Belgian firms are investing to improve their energy efficiency, in line with last year's survey and the EU average.
In terms of digitalisation (a main priority for the European Union as a whole), 76% of Belgian firms reported that they are using at least one advanced digital technology, which is above the EU average (69%). In addition, more than half of Belgian firms report that they became more digital as a response to COVID-19.
National Bank of Belgium Governor Pierre Wunsch sketched the general context: "The transition towards a more resilient economy requires a combination of structural reforms and productive investment. In Belgium, the transition will need to happen in a context of high public debt and elevated fiscal deficits, pressures on international competitiveness, relatively rigid labour markets and an ageing population. Such a constellation puts a premium on rationalising current public spending, clearly identifying specific investment needs, and finding synergies between public and private investment."
EIB Vice-President Kris Peeters explained: "Our annual investment survey is a very useful tool for both the finance world and governments. By comparing national results to EU averages and other countries, as well as to a pool of United States-based companies, we get a clear picture of where the needs and opportunities of different companies are. We see that the Belgian corporate sector held its own through the pandemic and is actually very advanced when it comes to digitalisation, which is a good sign. On the other hand, it is becoming clear that the climate is set to become an ever bigger issue, and the EIB is fully committed to supporting Belgian companies in financing renewable energy, sustainability and energy efficiency."
Annex:
Below is the complete breakdown of the interviewed companies in Belgian, divided by size and sector.
| | | | | | | | | |
| --- | --- | --- | --- | --- | --- | --- | --- | --- |
| EU | US | BE | Manufacturing | Construction | Services | Infrastructure | SME | Large |
| (12021) | (800) | (482) | (155) | (85) | (117) | (111) | (398) | (84) |