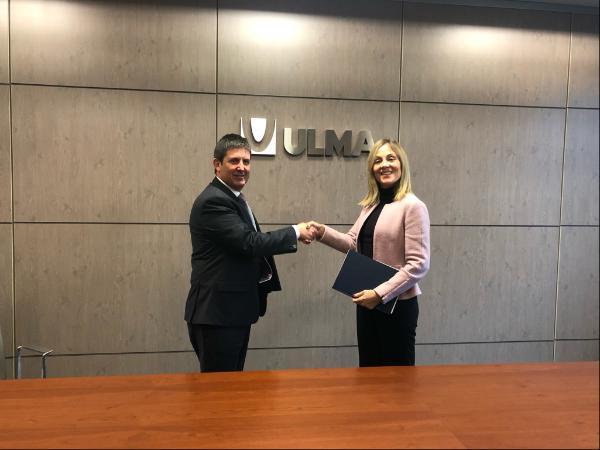 EIB loan will boost ULMA Group's growth, enabling it to expand its fleet of construction equipment in Spain and Poland
Among other projects, Basque cooperative will develop new safety improvement solutions for construction sector
Investment will create over net 300 jobs
The European Investment Bank (EIB) is financing the ULMA Cooperative Group's innovation strategy with a EUR 26 million loan under the Investment Plan for Europe, or Juncker Plan.  The EU bank's support will enable the Basque company to implement its RDI projects, mainly centred on developing new safety and productivity improvement solutions for the construction industry. This EIB financing will also help ULMA to carry out new investment in convergence regions in Spain and Poland, aimed at upgrading and expanding its fleet of rental plant and equipment. These investments will create over 300 net jobs.
The loan agreement was signed today in Oñati, Guipúzcoa, by EIB Vice-President Emma Navarro and the ULMA Group's CEO, Iñaki Gabilondo.
At today's signing ceremony at the cooperative's headquarters in Oñati, the EIB Vice-President stressed "the importance of this project to ensuring that the EU leads the development of new technologies in the key economic sector of construction. This requires heavy investment in innovation, and the EIB has demonstrated its firm commitment to meeting this challenge.  This agreement will enable a leading Spanish firm in the sector to continue being highly competitive while at the same time contributing to job creation in Poland and Spain" said Emma Navarro.
Vice-President Jyrki Katainen, responsible for Jobs, Growth, Investment and Competitiveness, said: "Construction is a key sector of the EU economy and our objective is to make it more innovative, competitive and sustainable. With this EFSI-backed loan to Ulma Group, the Investment Plan is supporting safer and more innovative industrial processes, while creating jobs and contributing to regional development in Spain and Poland."
The ULMA Group's CEO went on to underline the importance of the fact that the Basque cooperative's forward-looking project "enjoys the backing of the EIB, an institution that strongly supports the group's historic and ongoing commitment to innovation and growth".  
The EIB-financed RDI investments will mostly be in the construction area, where ULMA is a world leader in the manufacturing of building solutions such as formwork and scaffolding.  They will enable the firm to obtain state-of-the-art technologies to digitalise its production processes and innovate by manufacturing lighter products and modular solutions that improve both working-at-height safety and productivity.  
The EIB support will also enable ULMA in carrying out investments in new rental plant and equipment at its facilities in Spain (Andalusia, the Canary Islands and Castilla-La Mancha) and Poland (Gdansk, Jaworzno, Koszajec and Poznan). This way, the project will also foster cohesion within the EU and help ensure European leadership within the construction industry.
ULMA, a multisectoral business group with a presence in over 80 countries, has set this operation within its strategy of diversifying its sources of financing via its subsidiary ULMA Investment. ULMA specialises in providing services and products ranging from greenhouses, scaffolding and automated warehouses to rollers for the mining industry, packaging systems and forklifts. The company closed the 2018 financial year with a consolidated turnover of more than EUR 850 million, up 13%, and its gross operating result (EBITDA) for the period increased by over 18% to more than EUR 120 million.