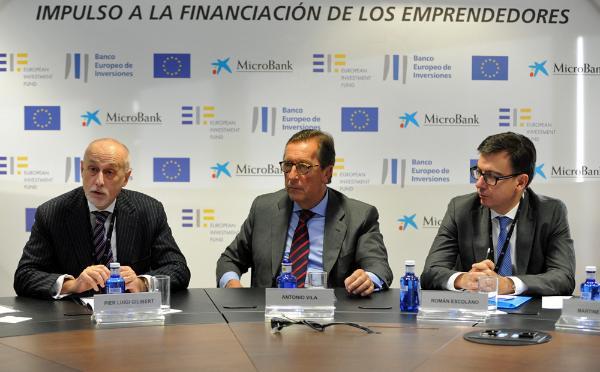 The European Investment Bank (EIB) has signed a loan agreement of EUR 100 million with MicroBank, the social bank within "la Caixa". In addition, the European Investment Fund (EIF) has also signed, under a European Commission mandate, a COSME loan guarantee agreement with Microbankproviding partial first loss cover for new loans granted by MicroBank. Both transactions are designed to support microenterprises and self-employed entrepreneurs in Spain with loan amounts of up to EUR 25 000.
The EIB loan, which will be matched by a further EUR 100 million of credit by MicroBank, will provide funding on attractive terms to self-employed young people and entrepreneurs' start-ups in Spain. The funds are therefore expected to stimulate investment and boost economic growth and youth employment.
The COSME agreement between the EIF and MicroBank is the first one signed in Europe under the EU COSME programme and will provide partial first loss cover for a new portfolio of loans worth up to EUR 650 million over the next 3 years. This will help MicroBank to substantially increase its volume of lending to SMEs, including start-ups. Some 60 000 companies and entrepreneurs are expected to benefit from this EU support. MicroBank's activity has been supported by EU guarantees since the start of its operations in 2007.
During the signing ceremony, EIB Vice-President Román Escolano stressed that "this agreement represents a further step in the EIB Group's continuous support for small and medium-sized businesses, which will play a key role in economic recovery". He also emphasised that "by focusing on microenterprises and self-employed entrepreneurs, this operation will target a market segment that has been particularly affected by the restricted access to finance. This is why the involvement of the EIB group is especially necessary and valuable". 
Speaking at the signing ceremony in Madrid, EIF Chief Executive, Pier Luigi Gilibert said: "I am delighted to be signing our first loan guarantee agreement in Europe under the COSME Programme. The EUR 650 million of loan finance for Spanish micro-entrepreneurs will help to create jobs and growth at a time when access to finance remains a key priority for the European economy. I am pleased that we can sign this agreement only months after the launch of COSME last year, which shows the positive demand for this initiative".
Antonio Vila, the President of MicroBank, stated that "equal access to financing is an essential requirement for balanced economic development and has a decisive impact on the sustainable generation of wealth and jobs. With this agreement, we will continue supporting those entrepreneurs, self-employed people and small businesses that, for various reasons such as their small scale or lack of collateral, may find it difficult to obtain the necessary credit to carry out their projects."
Daniel Calleja Crespo, Director General of the European Commission's DG Enterprise and Industry commented: "We are pleased to be signing our first loan guarantee agreement under COSME, the first EU programme entirely dedicated to SMEs. The Commission is firmly committed to helping SMEs overcome their difficulties accessing credit. Thanks to today's agreement with MicroBank, COSME guarantees will assist a large number of small Spanish businesses that would otherwise be unable to obtain finance due to the lack of collateral".