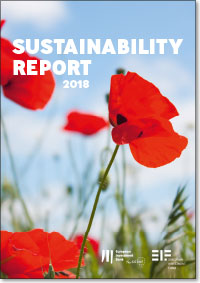 Click here for the newest edition of this publication.
Sustainable Finance is at the heart of the European Investment Bank (EIB) Group and shapes our activities and investment decisions.
The 2018 EIB Group Sustainability Report is once again testament to the achievement of the best corporate responsibility standards followed by the EIB Group. It is prepared in accordance with the Global Reporting Initiative (GRI) Standards and the content is based on the results of a materiality analysis that we conducted in 2018.