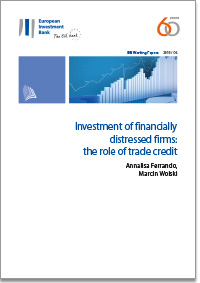 This paper examines the relationship between net trade credit and firms' investment levels, focusing on financially distressed firms.
First, it introduces a theoretical model to predict the role played by net trade credit as a coordination device differentiating firms by their degree of financial distress.
Then, it tests these predictions by using a large panel of more than 10 million firms in 23 EU countries over the period 2004–2014.
The authors show that while net trade credit has an overall negative impact on capital formation due to liquidity effects, the effect is less pronounced for firms that are in financial difficulties.
It is suggested that distressed companies use capital expenditures to maintain vital business relations with their customers in order to participate in final profits via trade credit repayments.