The EIB publishes a wide range of reports, studies and brochures aimed at professionals and the general public. All publications are free of charge in their digital formats: PDF, e-book or online. A limited number of print publications can be ordered free of charge from the Publications Office of the European Union.
EIB Investment Survey 2023 - European Union overview
This unique insight into the corporate investment in the European Union examines companies' finance needs and the constraints they face. The 2023 edition also provides insight into the pressing issues facing firms, such as climate change, high energy costs and the green transition. The survey, which has been administered since 2016, covers about 13 000 firms across the European Union, including a small sample of US firms.
The eighth annual Investment in Africa report underscores the need for international support and sustainable finance to advance economic development and climate change in the continent.
This year's EIB Group Activities in Cohesion Regions report takes a special look at the EIB Group's contribution towards innovation for an inclusive, green and digital transition in line with the Innovation, Digital & Human Capital Orientation 2021-2027.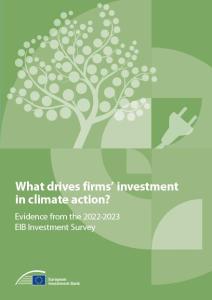 High energy prices in Europe and uncertainty caused by the Ukraine war are testing EU firms' ability to invest in climate change measures.
Get the EIB Publication update
Sign up to the EIB Publication update to receive a monthly selection of our publications.