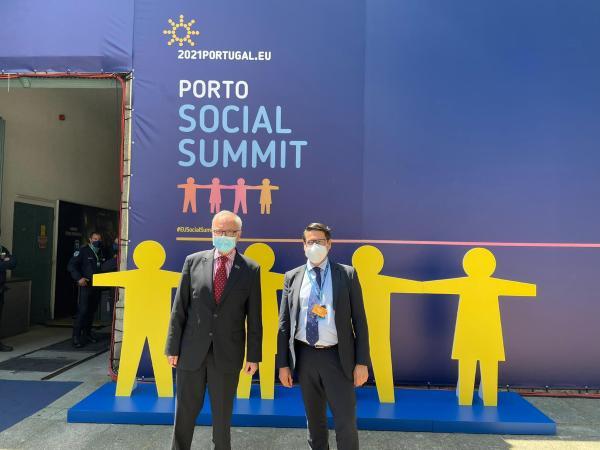 Strengthening education and addressing inequality crucial for sustainable COVID-19 recovery
COVID-19 shocks reinforce the need to transform skills
Unlocking business investment essential to protect jobs and training
COVID pandemic is impacting on vulnerable groups, widening social inequality and digitalisation gaps
Werner Hoyer, President of the European Investment Bank, and Ricardo Mourinho Félix, Vice President, today joined European leaders and social partners at the Porto Social Summit organised by the Portuguese Presidency of the Council of the European Union.
During the summit, President Hoyer emphasised the need to tackle education investment gaps, harness digitalisation to improve education and skills, and share best practice to maximise the social impact of investment in education and skills.
President Hoyer and Vice President Mourinho Félix also visited Portugal's first regional social innovation incubator, IRIS, to see how the EIB Institute is supporting social innovation and enabling Portuguese start-ups to take advantage of investment and network opportunities.
"Successfully tackling education and digital investment gaps is key for sustainable growth, competitiveness and social inclusion in Europe and accelerating recovery from COVID-19. The European Investment Bank has a unique experience of supporting high-impact projects that create jobs and unlock social development. This week's Porto Social Summit allows European and national social partners, including the EIB, and civil society to reinforce engagement and share best-practice to maximise the social impact of new investment," said Werner Hoyer, President of the European Investment Bank.
During discussions on innovation and skills, the EIB President outlined how the social impact of European and national investment could be enhanced by sharing experience that ensures an increased focus on skills development and harnessing digital opportunities.
The EIB President detailed recent EIB analysis of the social impact of COVID-19 and social challenges the pandemic exposes.
Digitalisation key for education post-COVID
The pandemic and lockdowns have strongly impacted education and training across Europe and exposed stark differences in digital infrastructure and digital skills. To strengthen access and inclusion in learning, future investment needs to focus on equipping young people and adult learners, teachers and businesses with both digital equipment and digital skills.
In Serbia the EIB is supporting the Connected Schools initiative to provide digital access and specialist digital education training for 50,000 teachers and backing new investment in 12 Irish Institutes of Technology to ensure that higher education reflects skills demanded by the job market.
Ensuring new skills needed following the COVID-19 crisis
EIB research shows that skill gaps have persistently posed barriers to investment for firms. Over the last years, more than 70% have reported skill gaps as an obstacle.
The COVID-19 pandemic has reinforced the need to transform skills and accelerated structural shifts and raised unemployment risks.  Scaling up skills investment is essential to mitigate polarization of labour markets across the EU and risks of structural unemployment increasing regional inequality.
Porto based incubator demonstrating the impact of social innovation
During their visit to Porto President Hoyer and Vice President Ricardo Mourinho Félix saw at first hand how the European Investment Bank Institute is helping local entrepreneurs to expand, take advantage of investment opportunities and strengthen cooperation networks.
IRIS is the first Regional Social Innovation Incubator in the country and a major player in the development of the ecosystem for social innovation in Portugal. The centre supports local social entrepreneurs, with 30 start-ups already benefiting from the incubator's services. Every year, 10 to 12 high-impact initiatives are selected for a six-month competitive Acceleration Programme.
During the visit, President Hoyer and VP Mourinho Félix had the pleasure to listen to four interesting and inspiring presentations from the representatives of start-ups benefiting from the services offered by IRIS. These companies provide innovative social services and solutions to neglected problems, like upgrading abandoned urban areas, supporting unpaid caregivers as well as connecting young people with older generations.
The European Investment Bank Institute is currently exploring ways to replicate the success of the IRIS incubator elsewhere in Europe.
The Porto Social Summit is hosted by the Portuguese presidency of the Council of the European Union and aimed at setting the European agenda for the next decade, facing the challenges of the present and the future leaving no one behind.
Background information
The European Investment Bank (EIB) is the European Union's bank owned by its Member States. It makes long-term finance available for sound investment in order to contribute towards EU policy objectives and achieve the UN Sustainable Development Goals in Europe and beyond. Active in around 160 countries around the world, the EIB supports projects aiming at reducing poverty and promoting climate action, economic resilience and gender equality.