By the numbers
Our financing for security and defence projects
Approved projects
in 2022
Approved projects
in 2018 - 2022
Financing available
from 2022 - 2027
Eligible activities
We invest in a safe and secure Europe by supporting areas such as:
Featured projects
Luxembourg
Better satellite connectivity in Europe, Africa, Middle East
We provided a €300m loan to SES, a satellite operator, to procure three satellites that will deliver advanced broadcast and broadband services in Western Europe, Africa, and the Middle East. The satellites will deliver broadband connectivity and video services to 176 million households in Europe and provide connectivity to governments in the Middle East and Africa.
  Activity: Space industry
  Loan amount: €300 million
Italy
Leonardo's breakthrough tech tackles today's most pressing challenges
Leonardo, an Italian high-tech company, is tackling some of today's most pressing challenges with its breakthrough technology. We are supporting their research, development and innovation in several areas, including helicopters, security, IT infrastructure, commercial electronics, space and Leonardo Labs, a network of research and development laboratories.
  Activity: Dual-use research, development and innovation
  Loan amount: €260 million
FRANCE
Access to energy-efficient housing for military personnel
We signed a €484 million financing contract for the Cegelog project, which aims to renovate and construct housing across France for military and civilian personnel and their families. The project will increase the number of homes available from 8 000 to 15 000 units and improve access to affordable housing. The renovated and new units will be modern, energy-efficient, and meet high-quality standards.  
  Activity:  Green security
  Loan amount: €484 million
Ireland
Siren: Developing intelligence capabilities for cybersecurity
We supported investigative intelligence firm Siren. The company provides advanced intelligence solutions to law enforcement agencies and organisations fighting crime. The platform helps investigators search, organise results and create reports visually. Our support will enhance Siren's cyber threat intelligence, operational monitoring, anti-financial crime and law enforcement capabilities. 
  Activity:  Cybersecurity
  Loan amount: €12 million
Get support
We work with public and private sector partners to support European defence and security projects.
We provide advisory support and a broad range of financial instruments such as:
Supporting the European Cybersecurity industry to develop in Europe with access to additional financing options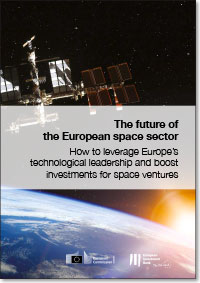 The study reviews access-to-finance conditions met by companies active in the European space sector and proposes potential solutions to improve them.
This report, produced by the European Investment Bank and the European Commission, provides a global overview of the state of play of both technologies. It shows that Europe needs to address an investment gap of up to €10 billion that is holding back development and deployment of artificial intelligence and blockchain technologies in the EU.