Other publications you may like...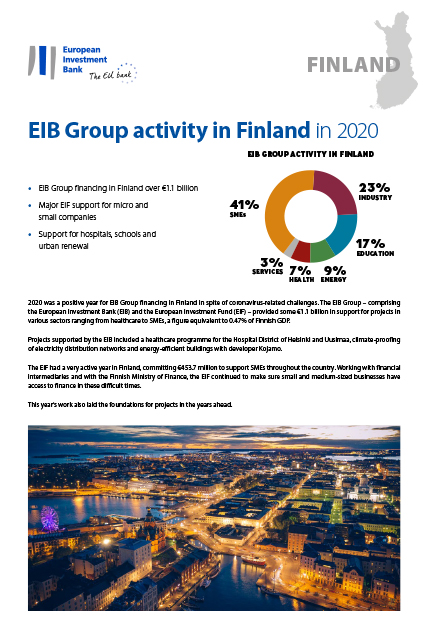 Hospitals, schools and urban renewal, but also SMEs and green industry conversions were among the EIB Group priorities in Finland in 2020. In all, the EIB and EIF made available over €1.1 billion for projects in the country, to support sound investment in line with EU policy goals.
Does Europe have an inequality problem? Amid the COVID-19 pandemic, many Europeans are certainly struggling. The rise of populist movements is another signal that something is awry. Many Europeans no longer see their economy as fair. But is this a problem of too much inequality, or just a problem of ideology? Is inequality even a bad thing? We need to consider the statistics on economic inequality, but also look beyond towards the lived experience of trying to make ends meet. We need to consider different ideas on the impact and significance of the inequality we see.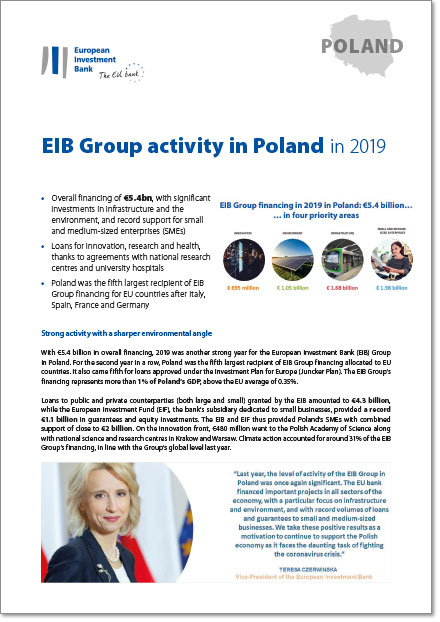 This factsheet provides an overview of the EIB Group activity in Poland in 2020. It highlights some of the projects supported by the EIB and its subsidiary, the European Investment Fund (EIF). Financing for projects in Poland covered a wide range of sectors and priority areas: Infrastructure, Climate Action and Environment, Innovation and Small and Medium-sized Enterprises. It has contributed to the country's response to COVID-19, sustained a balanced regional development and promoted green and innovative projects.