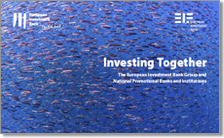 Description
National banks improve the EIB's reach and increase the economic impact of our finance, especially for small businesses.
With their knowledge and expertise, local financial institutions direct our funds to the companies that need it most – those having difficulty finding alternative sources of funding.
By working together, the EIB and national promotional banks help companies realise their potential.