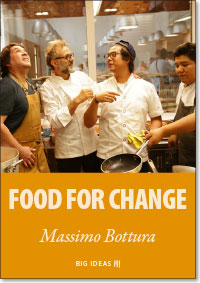 Description
Massimo Bottura is more than a Michelin star-winning chef. Together with Lara Gilmore, he also founded Food for Soul, a non-profit organisation seeking to reduce food waste through social inclusion and mitigate the carbon impact on our planet.
On the occasion of Expo 2015 in Milan and working in concert with Caritas Ambrosiana, Massimo Bottura opened Refettorio Ambrosiano, a new kind of community kitchen where chefs from around the world cooked nutritious meals for socially vulnerable guests using surplus ingredients recovered from the Expo's pavilions. The project's success led Bottura to found Food for Soul in 2016 aimed at replicating the model in other communities. Since then, Refettorio Gastromotiva in Rio de Janeiro, Refettorio Felix in London, Social Tables in Modena, Bologna and Naples, and Refettorio Paris in the French capital have all opened their doors. Further community kitchens are planned across the globe.
This is the ninth essay in the Big Ideas series created by the European Investment Bank.
The EIB has invited international thought leaders to write about the most important issues of the day. These essays are a reminder that we need new thinking to protect the environment, promote equality and improve people's lives around the globe.