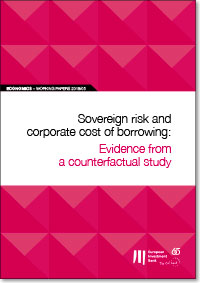 This paper assesses the impact of the sovereign risk spill-overs onto corporate cost of borrowing in selected euro area countries.
It confirms the heterogeneity of sovereign risk spill-overs and finds divergence in sovereign risk transmission between core and peripheral Member States during financial and sovereign debt crises.
It suggests that standard linear models may underestimate the underlying pass-through distortions, suggesting the existence of nonlinear sovereign risk effects.