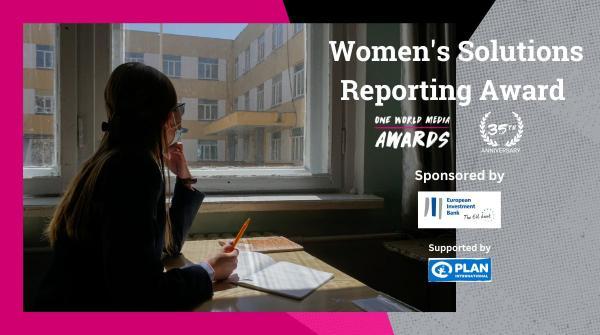 Journalists and filmmakers across the globe are invited to submit their best stories focused on the Global South.
The awards are sponsored by the EIB and Plan International.
Entries will be accepted until 9 February 2023.
The European Investment Bank (EIB) and Plan International are partnering with One World Media to celebrate underreported stories on development issues around the world that shatter stereotypes, change the narrative and connect people across cultures.
The two organisations are pleased to sponsor a competition celebrating outstanding media coverage of solutions to current challenges, by and for women and girls. It is open to media (broadcast, digital, audio, film, print, etc.) that explore women's solutions in the Global South. Reporting should showcase women and girls who tackle the challenges facing them and society at large: with solutions that promote women's financial and economic inclusion, combat climate change and protect the environment, improve health and education access, or otherwise empower women and girls.
One World Media was started by a group of journalists to increase quality reporting from the Global South. Since then, it has conferred nearly 400 awards in recognition of more than 1 000 excellent journalists and filmmakers.
Looking ahead to this year's competition, Director of One World Media Gemma Bradshaw explained, "The Awards reiterate why telling stories is important, shining a light on people and places that we don't often hear from. In a world that is increasingly polarised, OWM Award-winning stories help us see that we all have shared struggles and celebrations, and this can shift deeply rooted stereotypes. We are especially pleased to be supporting coverage of stories that remind us of the pivotal role of women in helping to tackle some of the key challenges of our time, both locally and globally."
Shiva Dustdar, Director and Head of the EIB Institute and one of this year's judges for the Women's Solutions Reporting Award category, remarked, "I am very proud that the EIB is supporting this award with One World Media and Plan International. We need to hear powerful stories of women from independent media who are changing our world. I hope that this award will help spread their good ideas and inspire us all."
Thomas Östros, EIB Vice-President responsible for promoting gender equality, added, "At the EIB, we aim to use investment to combat deeply ingrained gender inequalities. Our SheInvest initiative and our work with the 2X Challenge have clearly demonstrated that when women and girls have the opportunity to improve their lives, we all benefit. We need more stories like these to show us the way."
Chief Strategy and Engagement Officer of Plan International Kathleen Sherwin said, "We are inspired by the girls and young women we meet who are changing the world for the better. They are movement leaders, change makers, activists and creators who define and drive forward solutions that have the power to transform lives and society. They have a mighty story to share, and that is why we are delighted to partner with One World Media and the EIB to support the Women's Solutions Reporting Award."
Entries for the 35th One World Media Awards will be accepted until 9 February 2023.
See the complete selection and eligibility criteria.
Read Shiva Dustdar's blog post on the OWM website.
Check out the EIB's latest news on its Gender page.
Read Plan International's report "Rewrite Her Story", which investigates how film and media stereotypes affect the lives and ambitions of girls and young women.
Background information
About the European Investment Bank
To better promote gender equality and empower women and girls, the EIB Group has adopted a Strategy on Gender Equality and Women's Economic Empowerment and a Gender Action Plan. These tools serve to embed gender equality, and especially women's economic empowerment, in the EIB's business model. They cover its lending, blending and advisory activities in the European Union and beyond.
The EIB is also committed to driving gender equality, diversity and inclusion in the workplace — not just for the undeniable business benefits, but also to enrich the working environment for all its staff.
More information: EIB gender equality initiatives
About One World Media
One World Media is a UK non-profit that supports journalists and filmmakers covering stories about the Global South. For more than three decades, the organisation has worked with partners in the United Kingdom and around the world to strengthen international journalism and promote media coverage of global issues. Entries for the One World Media Awards will be selected for their relevance, originality and creativity, substance and accuracy, impact and reach, diversity and quality.
About Plan International
Plan International is an independent development and humanitarian organisation that promotes children's rights and equality for girls.
Plan International believes in the power and potential of every child. But these are often suppressed by poverty, violence, exclusion and discrimination — and it's girls who are most affected. Working together with children, young people, supporters and partners, the organisation strives for a just world by tackling the root causes of the challenges facing girls and all vulnerable children.
It champions children's rights from birth until they reach adulthood, and prepares them to deal with crises and adversity. With its knowledge, experience and reach, it drives change in practice and policy at the local, national and global levels.
Plan International has been building powerful partnerships for children for over 85 years, and is now active in more than 80 countries.