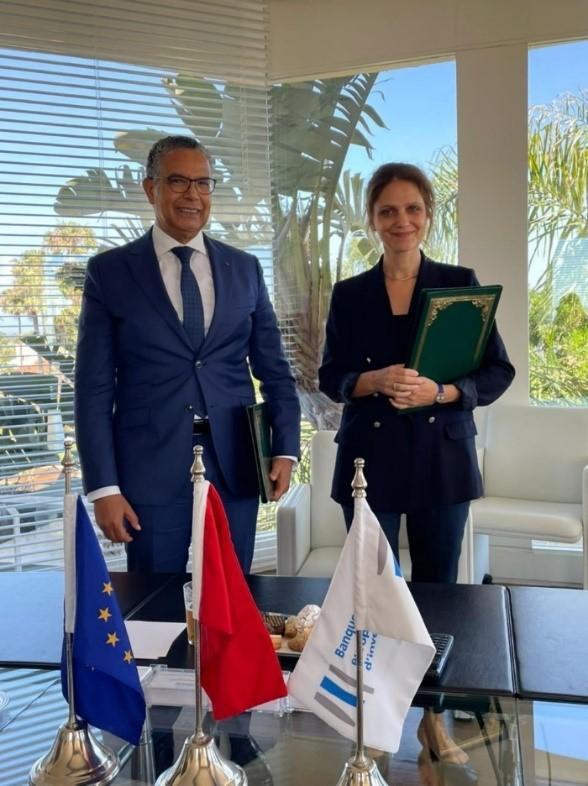 This €37.5 million (MAD 405 million) finance contract comes in addition to the loan signed in 2019 under ONEE's 2019-2023 water infrastructure plan.
The operation is part of Team Europe's exceptional response to the COVID-19 pandemic, which makes it possible to finance up to 90% of the project amount.
This new funding will help combat climate change by improving Morocco's resilience to water shortages.
The European Investment Bank (EIB) has signed a new €37.5 million (MAD 405 million) finance contract with the Office National de l'Electricité et de l'Eau potable (ONEE – Morocco's National Electricity and Drinking Water Company) to finance the rehabilitation and improvement of water supply and distribution infrastructure in Morocco. This signature comes in addition to a previous agreement concluded in 2019 under ONEE's 2019-2023 water infrastructure plan.
Against a backdrop of increasing water stress, this operation strengthens the ONEE programme to modernise and optimise water production, pipeline and supply infrastructure across Morocco. The planned investments aim to ensure the drinking water supply is reliable and to improve the living conditions of the population, mainly in rural areas.
This EIB financing falls under the European Union's external lending mandate and is part of the Team Europe programme's response to the health crisis. The total amount of the loan exceptionally covers 90% of the total project cost. The EIB Statute normally limits this figure to 50%.
This support will also help to cut greenhouse gas emissions by reducing water losses in the country's distribution systems, while strengthening Morocco's resilience to the growing water shortage, already exacerbated by climate change.
"We are proud to consolidate our 30-year partnership with ONEE, whose remit is key to meeting the environmental challenges facing Morocco in terms of the use of water resources. As the climate bank, it is our duty to help combat climate change and reduce territorial inequality with sustainable investment," said EIB representative in Morocco Anna Barone. "This new funding will help consolidate structural investment programmes in the water sector for the Kingdom of Morocco, thereby strengthening environmental and economic resilience and territorial equity in the country."
The EIB has been a key partner for Morocco for 40 years. The EIB finances the development and implementation of important projects in vital sectors of the Moroccan economy such as business support, agriculture, water and sanitation, education, health, transport and even renewable energy.