Other publications you may like...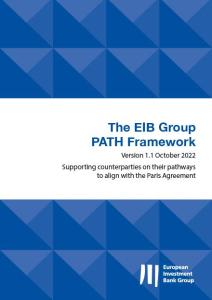 The EIB Group PATH Framework Version 1.1 October 2022 is an updated edition of the EIB Group PATH Framework published by the EIB on 26 October 2021. Version 1.1 is updated with an additional paragraph (4.28) in support of the REPowerEU plan.
EIB Project Carbon Footprint Methodologies provides methodologies and guidance to EIB staff on how to calculate the carbon footprint of the investment projects financed by the EIB.
This unique insight into the corporate investment landscape in Central Eastern and South Eastern Europe (CESEE) examines past investment activities and future plans, sources of finance, financing issues and other challenges that firms face.