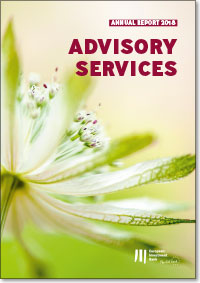 Description
The 2018 annual report on Advisory Services explains how the technical, financial and strategic advice provided by European Investment Bank staff and external consultants aids the preparation and implementation of public and private investment projects.
From helping Romania to modernise its health care to bringing clean drinking water to communities in Jordan, Advisory Services gives public officials the tools they need to tackle their country's challenges.
In the private sector, our work with national promotional banks and other financial intermediaries allows us to reach small businesses, giving them the guidance they need to grow.
Our expertise enables us to put together creative financing solutions for innovative projects, whether it be in sustainable agriculture, technology or urban development.
For more information on the kind of services and solutions we offer, please read our annual report.
All editions of this publication