Montenegro
Montenegro has been a Candidate Country since 2010, and negotiations for EU accession began in June 2012. EIB lending activities in the country amount to over EUR 618.9 million.
In 2018 alone, the Bank signed loans of EUR 141 million, EUR 100 million via local banking partners for small and medium scale projects which boost the local economy. In addition, a EUR 20 million loan will support the rehabilitation of railway infrastructure across the country.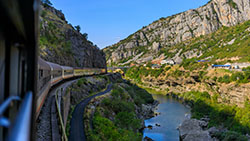 Montenegro's railway used to be one of its big accomplishments. It was the largest and most expensive infrastructure project in the former Yugoslav federation. But now it has fallen into decay. With our help, the railway plans a comeback.
---
---
---
---