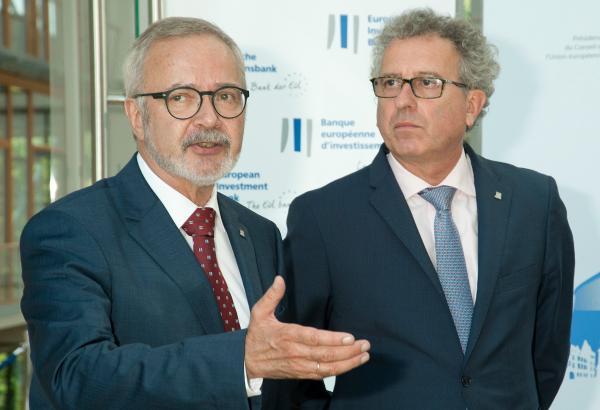 The EIB has hosted a working lunch with EU Finance Ministers at EIB premises. The meeting took place at a time when Europe is faced with the largest migration of displaced people since the end of World War II. "This emergency is perhaps the most challenging test since the fall of the iron curtain for the European Union, its commitment to solidarity, and its values", said EIB President Werner Hoyer.
President Hoyer offered Ministers the European Investment Bank's support as part of a concerted European response, in close partnership with the Member States and the European Commission. In the short term the EIB could help fund lodging arrangements, helping to ensure refugees can be received with dignity. In the longer term, the EU Bank could support initiatives to allow those entitled to stay to integrate as effectively and quickly as possible. Schools, health, housing, training, and skills development, including language learning, would be initiatives for which the EIB could make financing available. The Bank could also provide microcredits to help people get on their feet and accelerate integration.
The EIB President also outlined an EIB "Action Plan for Greece".  The action plan covers two aspects: enhanced loans and guarantees; and help in improving projects to ensure they are successful in attracting both EIB and EU funding. The Bank is ready to increase its workforce on the ground substantially. The additional support is in line with the Bank´s strong commitment towards Greece in recent years. Since the outset of the crisis the EIB has provided finance of over EUR 11 billion to Greece, and on 27 August the Bank signed a fresh loan for EUR 1 billion. The Bank´s total outstanding exposure to the country stands at some EUR 18 billion, representing nearly 10% of Greek GDP.