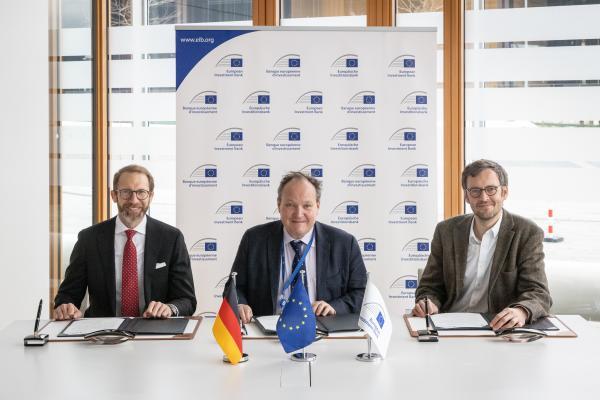 The Munich-based health-tech start-up intends to build on its technology lead in the field of AI-supported medical documentation.
Software facilitates the medical documentation process and allows for better evaluation of the data collected in hospitals and medical practices.
The EIB venture debt loan is backed by a guarantee under the European Union's InvestEU Programme.
The European Investment Bank (EIB) has granted a venture debt loan of €15 million to support health-tech start-up Smart Reporting during its growth phase. The Munich-based company has developed medical documentation technology based on artificial intelligence (AI) that makes it possible to efficiently collect, structure and process clinical data.
The voice-controlled, AI-supported diagnostic software for radiology, pathology and other clinical areas can thus make a decisive contribution to the digitalisation of healthcare.
With this fresh capital, Smart Reporting plans to expand its leading tech position, tap into new markets and further scale up its software and data business.
The financing is backed by the InvestEU Programme, which provides investment partners with EU budget guarantees to increase their risk capacity and mobilise public and private investment. The EIB venture debt loan is a form of finance that meets the needs of fast-growing, innovative companies. Venture debt loans supplement existing venture capital financing without diluting the shares of the founders.
Smart Reporting's technology can be used to produce fully evaluable and machine-readable results that, in radiology and pathology, are already reducing time to diagnosis, improving diagnostic quality, automating manual processes and easing communication with referring physicians, thereby helping to optimise patient care.
Previously, doctors spent up to 40% of their working hours on documentation. Only 3% of the data collected in hospitals can be evaluated later for other purposes, for example for medical research. The Smart Reporting technology is already being integrated by major medical device manufacturers like Siemens.
Its centrepiece is a language-controlled, guideline-based documentation tool that is integrated into the medical workflow. It supports radiologists and pathologists in real time during medical examinations, with AI, automated image analysis and high-quality machine-readable data.
Ambroise Fayolle, EIB Vice-President responsible for financing in Germany, remarked, "Smart Reporting develops effective solutions to accelerate standard procedures and diagnostics in doctors' offices and hospitals, integrating the latest medical information and guidelines. The technology has strategic importance for the digitalisation of healthcare, and makes the data collected usable for future diagnostics and medical research. We are pleased to be working with Smart Reporting to drive this medical innovation."
Smart Reporting founder and Co-CEO Wieland Sommer explained, "The future of medicine is data-driven. It will take high-quality, standardised data to automate clinical workflows in depth, enable evidence-based decision-making, and ensure efficient, quality medical care in the future. In recent years, we have built up global market access through a growing number of partnerships with leading international tech companies. In the EIB, we are delighted to have found a strong, long-term partner to help us significantly accelerate our expansion into new markets like the US and Canada, as well as other fields of application, such as documentation for surgical procedures."
Smart Reporting Co-CEO Peter Vanovertveld added, "Our market positioning is ideal: Smart Reporting is the leading provider of tech-driven solutions that structure clinical data right as it is created. The virtually unique interoperability of our software and its seamless integration into the clinical workflow enable the systematic generation of complete, quality-controlled data. With this new capital, we are now taking the next step in the company's development, with an even stronger focus on the use of data in the clinical environment and drug development. In these areas, as in the healthcare sector as a whole, data and data quality are the keys to success. We stand ready with the additional financial resources to contribute significantly to this development."
Background information
The EIB's key priorities are climate and the environment, development, innovation and skills, small and medium-sized businesses, infrastructure and cohesion. It works closely with other EU institutions to foster European integration, promote the European Union's development and support EU policies in more than 140 countries worldwide.
The InvestEU Programme provides the European Union with long-term funding by leveraging substantial private and public funds in support of a sustainable economy. It helps generate additional investments in line with EU policy priorities, such as the European Green Deal, the digital transition and support for small and medium-sized businesses. InvestEU brings all EU financial instruments together under one roof, making funding for investment projects in Europe simpler, more efficient and more flexible. The programme consists of three components: the InvestEU Fund, the InvestEU Advisory Hub and the InvestEU Portal. The InvestEU Fund is implemented through financial partners who invest in projects thanks to an EU budget guarantee of €26.2 billion. This guarantee increases their risk-bearing capacity, thus mobilising at least €372 billion in additional investment.
Smart Reporting was founded in 2014 by Wieland Sommer, Professor of Radiology with a Master's in Public Health (Harvard, US). The company was established in Munich with the vision of harnessing the value of medical data for better decision-making and treatment. Today, it has an interdisciplinary team of 70 doctors, data scientists and software engineers who develop software from Germany, Austria, Switzerland and Brazil based on their detailed understanding of clinical workflows. The company's multilingual software for structured diagnostics in radiology and pathology is used by more than 15 000 physicians in over 90 countries. Smart Reporting was advised on this financing arrangement by Goetzpartners.