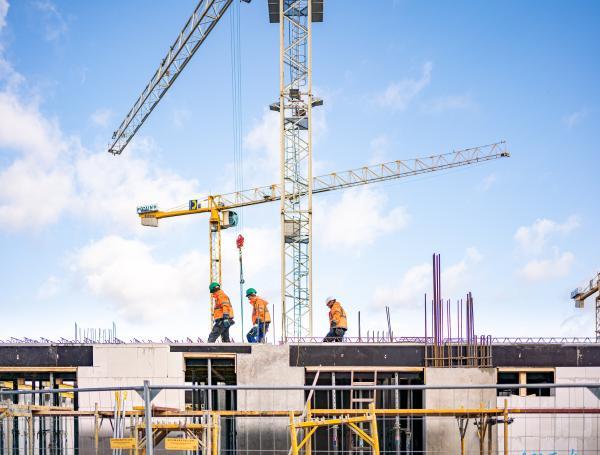 At least 2 165 affordable flats will be built.
The project meets both German and EU energy efficiency standards.
The European Investment Bank (EIB) has granted the state-owned Berlin housing company Gewobag a loan for €300 million to construct more than 2 165 new flats by 2026. The funds will also be used to create around 350 openings at childcare centres and 210 at assisted living facilities, as well as 650 homes for refugees.
Seven construction projects will be completed, located on Allee der Kosmonauten in Berlin-Marzahn, Landsberger Allee in Berlin-Lichtenberg, Gartenfelder Strasse in Berlin-Spandau and Wendenschlossstrasse in Berlin-Köpenick. They largely comply with the level 55 Efficiency House standard of the German promotional bank KfW - Kreditanstalt für Wiederaufbau. Thus, the project also complies with the EU Buildings Directive.
The loan now constitutes the third financing project on which the public housing company and the EIB have collaborated. This cooperation means the creation of additional affordable housing for the capital city of Berlin.
EIB Vice-President Ambroise Fayolle, who oversees financing in Germany, remarked, "Together with Gewobag, we are showing that new, energy-efficient housing need not be costly for tenants. The project helps alleviate the shortage of affordable housing in Berlin, in a climate-friendly manner. It also promotes solidarity and the cohabitation of different generations in new neighbourhoods, through the provision of housing for refugees, new kindergartens and assisted living facilities."
Gewobag board member Markus Terboven explained, "The preferential interest rates offered by the EIB will permit us to further reduce our financing costs and keep them low in the long term. With this financing project, we are helping create much-needed housing that is also affordable, while keeping rent prices for our tenants as low as possible. In the EIB, we have a strong and reliable partner at our side."
Background information
The EIB's key priorities are climate and the environment, development, innovation and skills, small and medium-sized businesses, infrastructure and cohesion. It works closely with other EU institutions to foster European integration, promote the European Union's development and support EU policies in more than 140 countries worldwide.
Gewobag is one of the largest real estate companies in Berlin and nationwide, with more than 74 000 residential units and 130 000 tenants. By 2030, the government-owned housing company intends to expand with a further 10 000 units.