Hundreds of millions in investment to mitigate climate change and its consequences
EUR 1 billion for road, rail and air transport
EUR 903 million for new investment by SMEs and industry
EUR 760 million for investment in energy
During the COP24 global climate conference in Katowice, the Board of the European Investment Bank (EIB) has approved investment worth hundreds of millions of Euros for projects to fight climate change and help countries to deal with its consequences. Among these projects are wind and solar power schemes, energy efficiency renovations and waste and water management systems. 
Overall, the EIB Board agreed at its monthly meeting in Luxembourg yesterday EUR 3.8 billion of new financing for transport, business, energy, access to water and social housing investment across Europe and Africa.
"Supporting a resilient society is key to achieve the Sustainable Development Goals and reach the Paris agreement's objectives. EIB experts at this very moment actively participate in discussions at the COP24 in Katowice. Projects approved today will enable households to access clean energy and energy efficient social housing as well as safe drinking water. The EU Bank will continue to play a crucial role in the struggle to achieve the Paris objectives", said Werner Hoyer, President of the European Investment Bank.
Harnessing renewable energy and improving energy efficiency
EUR 335 million of investment approved today will finance construction and implementation of wind power and solar photovoltaic renewable energy generation in Spain, contributing to the  country's target of 20% of final energy consumption coming from renewable sources by 2020.
A new EUR 200 million investment programme will improve electricity distribution in the South West and North of Finland.
Finally, residents of Bucharest, Romania will benefit from energy efficiency investment in residential buildings.
See below for reference EIB investment in energy for the last full year 2017: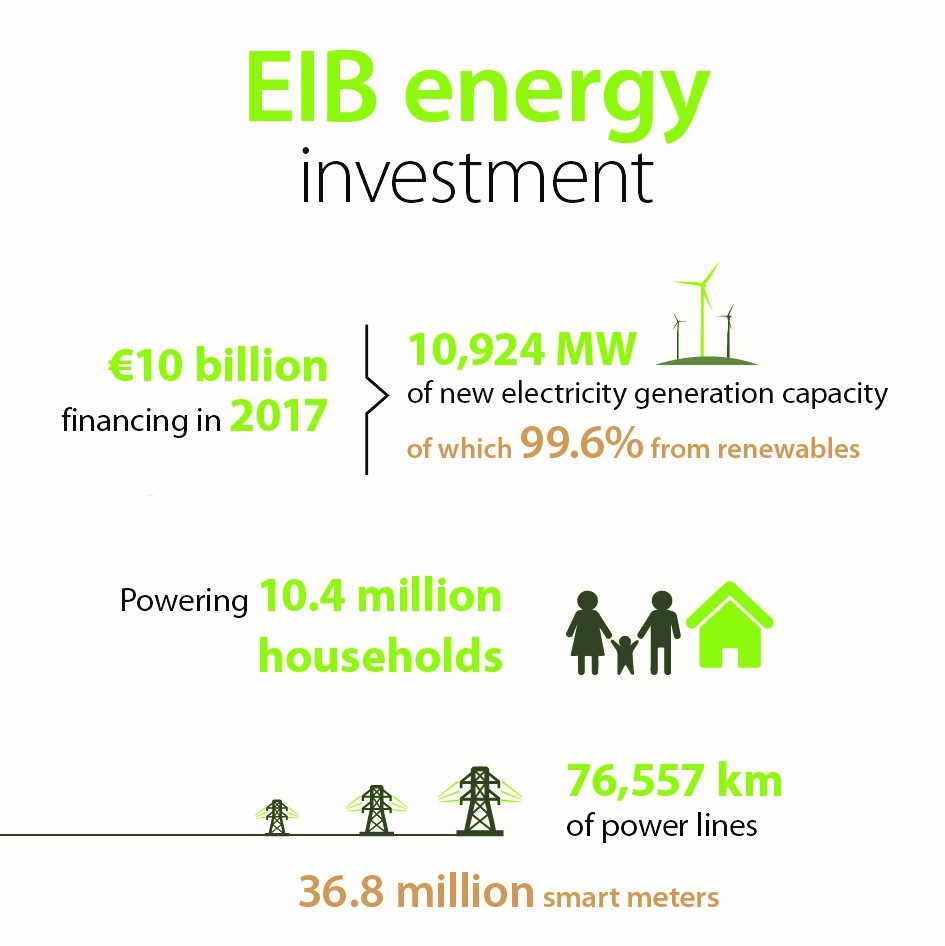 Improving access to clean water and supporting climate adaptation
In the United Kingdom, a new EUR 114 million programme will increase the resilience of drinking water supply and wastewater treatment.
For the Walloon Brabant province of Belgium, the EIB board approved EUR 80 million financing for the upgrade of water supply and solid waste collection, as well as investment to renovate old and abandoned sites. The drinking water component of the project will benefit 206,000 inhabitants and the waste collection and treatment component 420,000 inhabitants.
In Africa, the bank will finance storm water retention in Cotonou, Benin with EUR 50 million. EUR 82 million will support the Lesotho lowland water supply scheme, comprising water production infrastructure and distribution network as well as capacity building for water efficiency and sanitation.
Improving connections between cities in Europe and in Africa
The EIB Board approved EUR 1 billion for new transport projects that will enable people to reach their destination faster and safer.
This includes construction and upgrading of key road connections within Georgia and to neighbouring countries, construction of a 32 km highway between Serbia and Kosovo, and second highway tunnel between Slovenia and Austria.
A EUR 130 million investment will improve the safety, security and efficiency of the Milano-Linate Airport.
Financing will also go to rail transport, such as for the modernisation of new rolling stocks and related equipment and services in Germany. In Austria, 37.5 km of the single-track rail line between Wien-Stadlau and Marchegg, at the border with Slovakia, will be modernised and electrified.
Outside Europe, financing to rehabilitate and upgrade roads in Liberia, Malawi and Senegal was approved.
Supporting entrepreneurship and innovation
Today's board meeting agreed to provide EUR 903 million for new investment for SMEs and industry.
This will finance research and development investment in Poland and Spain, and support SMEs and Mid-Caps in the Netherlands, Belgium, Germany and Luxembourg.
Outside Europe, a dedicated EUR 200 milion loan will benefit female entrepreneurs across Africa, and a EUR 63 million investment will contribute to develop local private sector in Congo, Cameroon and Chad.
Investing in cities and social housing
EUR 213 million approved by the EIB board will strengthen resilience of cities through investment in urban development and infrastructure in France, Poland and Estonia. Different programme loans will finance projects for urban transport, social facilities, education, culture and public infrastructure in these countries.
In addition, EUR 308 million will be invested in the construction of new and affordable social housing in the United Kingdom, Austria and Sweden.
EUR 875 million of new investment backed by the Investment Plan for Europe
Financing for 11 projects approved by the EIB board today will be guaranteed by the European Fund for Strategic Investments and. They are expected to mobilize an estimated EUR 4.9 billion of total investment.