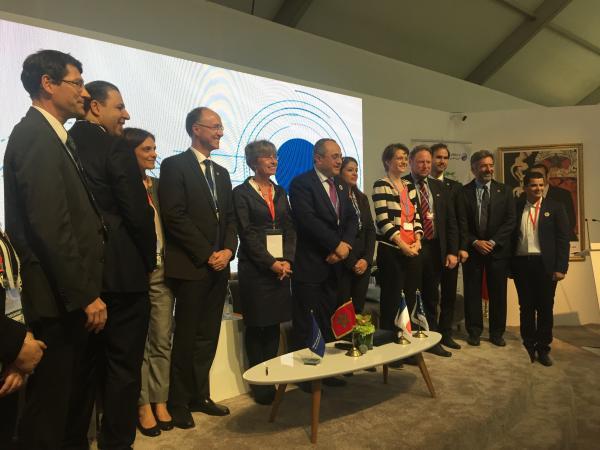 On the fringes of COP22, the European Investment Bank (EIB) has signed a EUR 150m credit line with BMCE Bank of Africa.  The goal is to strengthen support to small and medium-sized enterprises (SMEs) for financing projects in the industrial and services sectors.
"This is an important financing operation for the Moroccan economy", stated Marion Hoenicke, head of the EIB's division for lending operations for SMEs in neighbouring countries, at the signing ceremony. "Companies are engines of growth and employment. For this reason, we are responsible for creating the optimum conditions for financing and access to credit. By working together with BMCE Bank of Africa, we are contributing to the dynamism and competitiveness of the Moroccan economy."
"Fully committed to the financing and support of Moroccan SMEs, the bank is proud to collaborate in implementing this credit line with a partner as prominent as the European Investment Bank. In an economic climate marked by the urgent need for environmental protection, this partnership illustrates once again BMCE Bank of Africa's pivotal role in the creation of a sustainable and responsible economy," stated Group Executive Managing Director Brahim Benjelloun-Touimi, BMCE Bank of Africa.
This new credit line granted on very favourable terms thanks to the EIB's "AAA" rating will enable BMCE Bank of Africa to strengthen its lending capacity for SMEs, improving their access to attractive financing tailored to their needs, particularly through longer loan maturities. Particular attention will be paid to the import and export activities of the beneficiary companies.
This EIB financing operation is consistent with the priority given by the European Union and Morocco to the development of a market economy conducive to investment and trade at both national and international level. Michael Köhler, Director of Neighbourhood South (DG NEAR) at the European Commission, pointed out that the European Union was also preparing to launch its "Green Growth and Competitiveness" programme with over MAD 1bn (EUR 105m) to support economic reforms and projects boosting the competitiveness of SMEs and micro-enterprises and green growth in Morocco.  "Initiatives in synergy for the Moroccan private sector".
As one of the main lenders in Morocco, the EIB has provided almost EUR 7bn in support of projects in key sectors of the Moroccan economy, such as energy, transport, water and sanitation, health, education, social housing, industry, SMEs and innovation.