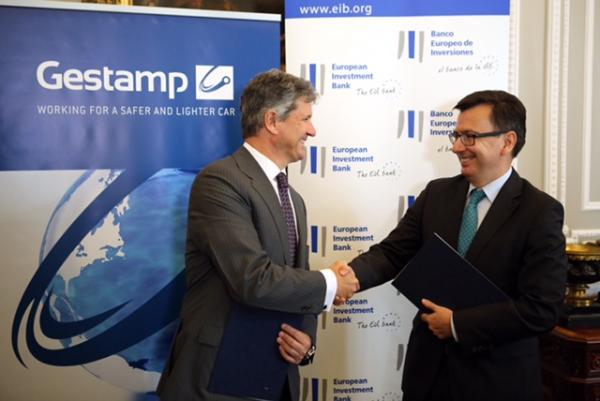 Loan from the European Investment Bank to Gestamp for developing safer and lighter vehicles.
Spain will receive total investment of EUR 41.6m.
The European Investment Bank (EIB) supports research, development and innovation in the European automotive sector. EIB Vice-President Román Escolano and Gestamp CEO Francisco J. Riberas today signed a EUR 160m Investment Plan for Europe loan at a ceremony in Madrid. The loan will allow Gestamp, a Spanish multinational specialised in metal vehicle components, to pursue new avenues of research into producing safer and lighter cars.
Gestamp will be able to use the EUR 160m to fund research and development at its factories in Spain, Germany, France, Sweden and the UK. In concrete terms, Gestamp's home market of Spain will receive investment totalling EUR 41.6m, i.e. 26% of the total. The project will support research in Spain with a view to achieving the target of RDI investment reaching 2% of GDP in 2020 (it currently stands at 1.2%).
The Investment Plan for Europe will allow Gestamp to implement a new four-year research programme at its European sites to produce key components for making cars safer and cleaner.
The project will also have a positive effect on employment. Gestamp has 95 factories in 20 countries with more than 33 000 employees, of which 1 300 work in research, development and innovation. This investment will make it possible for the company to continue creating high-quality jobs in Europe, as RDI is a powerful growth driver.
EIB Vice-President Román Escolano highlighted the Investment Plan for Europe's commitment to research and employment: "investing in new technologies means investing in the future. This project will help the EU to maintain its leading position in automotive innovation, in a sector that has a major impact on direct and indirect job creation."
Gestamp CEO Francisco J. Riberas commented that this loan "will allow Gestamp to redouble its RDI efforts – an asset for helping the company stand out from the competition – which at a practical level are focused on developing lighter and safer cars." According to Riberas, the fact that the investment is concentrated on Europe "will make it possible to safeguard our greatest asset: researching and developing the cars of the future on our home continent. Innovation is Europe's last line of defence."
Carlos Moedas, Commissioner for Research, Science and Innovation, said: "The European Union is investing in research and innovation to support growth and jobs, and to tackle today's challenges. The project signed today by the European Investment Bank and Gestamp Automoción under the Commission's Investment Plan is a great example of the value of our investment. The funding will make cars safer and greener, and create hundreds of jobs in Spain and elsewhere."
Gestamp is one of the largest manufacturers of metal car components in the world. The company's close relationship with customers and suppliers across the globe means that this Investment Plan for Europe project will help facilitate access to new technologies and know-how not only for the promoter, Gestamp, but also for the entire automotive sector.