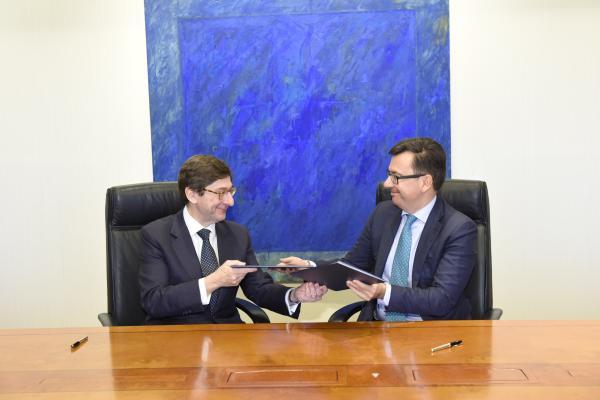 The European Investment Bank (EIB) and Bankia signed this morning a EUR 500 million loan contract designed to facilitate access to credit for SMEs and midcaps. Bankia will match the loan with a further EUR 500 million, meaning that a total of EUR 1 billion will be made available for financing Spanish businesses under this agreement.
The contract was signed today by EIB Vice-President Román Escolano and Bankia's CEO, José Ignacio Goirigolzarri.
SMEs and midcaps (firms with up to 3 000 employees) will be able to access this long-term funding to finance both investment and working capital requirements amounting to up to EUR 25 million in the case of SMEs and EUR 50 million in the case of midcaps. The loan will target a wide range of productive sectors
This is the third operation of this type mounted by EIB and Bankia. The two previous loans, signed in October 2014 and July 2015 and totalling EUR 450 million, have already been channelled in full to more than 1 500 small businesses.
At the signing ceremony, EIB Vice-President Román Escolano stressed "the important role played by financing small and medium-sized businesses in fostering economic activity and boosting job creation in our country".