Anna Fiscale created Progetto Quid with the desire to create fashion employing vulnerable people and using abandoned textiles
By Chris Welsch
Anna Fiscale came up with the idea for her business six years ago by turning her definition of success on its head.
At the time, she was facing a difficult interior contradiction. She had a picture of herself — based on her formidable academic achievements and intellect — as a strong independent person, and she had her eyes on an international career. But inside she felt weak, indecisive, unable to move forward without someone else's approval. An abusive relationship had her questioning her every move.
The turning point for Fiscale, she says, was re-examining the word 'fragility' as it applied to herself and others. She asked herself, what if she saw her fragility not as a limit, but as a starting point? For her and other people who had been mistreated, down on their luck or forced into bad choices?
Thus Progetto Quid was born.
It's a story Fiscale has told more and more frequently as her company's success has grown — including in a 2017 Ted talk called "The Fragility Factor."
Creating 'added value'
Fiscale moved back to her hometown of Verona in northern Italy and began working on the idea of a business that specialised in second chances, turning fragility into strength for her and others. She said she had always liked to ornament her clothing with embroidery and was fascinated by fashion, and she'd learned that Italian fashion houses and textile makers often had thousands of metres of extra fabric that were just thrown away after the season's choices had been made. She wondered if she could find a way to save that wasted fabric and use it to give work to people who needed it to get back on their feet.
"The business is called 'Quid' because it's a Latin word that means something has an added value," she said. "We believe our project has an added value because it creates fashion by employing disadvantaged people and by giving a second opportunity to leftover materials. And our symbol is a clothes peg because we hold together social, environmental and market values."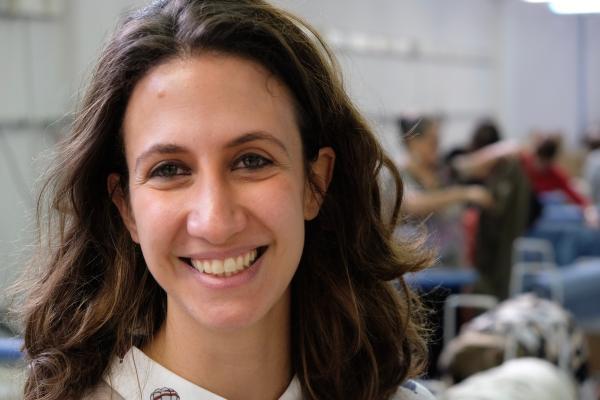 Progetto Quid makes women's clothing in limited editions of up to 300 pieces — limited because each piece can only be made until the fabric runs out. Quid has five boutiques in northern Italy, including one in Venice, and it also sells online and in more than 100 multi-brand stores. It also makes accessories like purses, shopping bags, bracelets and hairbands, mostly made from fabric that would otherwise go to waste. It is one of the past winners in the EIB Institute's annual Social Innovation Tournament, which recognises and supports European social entrepreneurs whose primary purpose is to generate a social, ethical or environmental impact.
On a busy Thursday morning at Progetto Quid's factory building, the whirring of dozens of sewing machines filled the air of the production floor. Fiscale said Progetto Quid had just moved into the building in August 2018, but already space was getting tight for the sewing staff and in the fabric warehouse, even considering that more than another dozen employees were working nearby in a separate space for administration, the designers, and prototype makers.
Making a difference close to home
The company has grown from three employees in 2013 to 120 today, Fiscale said. The company makes about 100,000 clothing items and nets EUR 2.8 million annually.
On the factory floor, Ijeoma Madueke was working with a pair of scissors, cleaning up loose threads on print blouses that had just been sewn together. She said Progetto Quid had been a blessing to her and many others.
"It's a nice place — it helps less privileged people", she said. "This place has helped a lot of people, me included."
About 60 per cent of the employees at Quid come from some kind of vulnerable background, Fiscale said. The company has two workshops in Verona prison, and some recently released prisoners with experience in those workshops join the company. One woman went from prison to the factory to supervising quality control and packaging, Fiscale said.
Other women employees have been victims of sex trafficking. Some of the employees are recovering drug addicts or alcoholics. And others are older employees who had been laid off from jobs in Italy's fashion industry, bringing with them invaluable experience that allows them to train others.
In the warehouse level, on the floor below the factory, Marco Penazzi was working on his inventory of fabrics. Several kilometres of textiles — everything from the finest Italian wool for suits to outrageously coloured polyester for swimsuits — are in rolls in floor-to-ceiling racks, ready to be sent upstairs when the designers call for it. More than just a warehouse manager, Penazzi travels all over Italy looking for donations of fabric.
For Penazzi, who was trained as a nurse and had also worked on social projects in the United States before joining Quid, the diversity of the place makes it appealing.
"The cool thing is, no matter where you come from outside, in here we're all colleagues," he said. "In here, you're not your background."
But there's also a common sense of purpose, he said, before getting back to work.
"In the beginning I was a volunteer," he said, "but now we're a real fashion brand, and we have to compete with other fashion brands. There's always more to do."
Later that day at Progetto Quid's elegant boutique in old Verona, saleswoman Carmen Fusco was folding clothing to put on display. She was asked if customers buy the clothes for the story behind them or the fashion itself.
"I would say both," she said. "I was a customer before I started working here; I always felt good about buying clothes here because you're contributing to society. But it had to be something I liked."