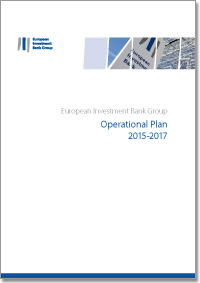 Description
Investing to restore EU competitiveness
We remain well placed to support investment growth, reinforce economic and social cohesion, sustain employment and play a critical role in restoring EU competitiveness.
We continue to be very responsive to the economic environment and prove our role as the "EU Bank" which was underlined with the EUR 10bn capital increase approved in 2012. This enables additional financing of viable investment projects in the range of EUR 180bn between 2013 and 2015 across the EU, with a focus on projects aiming at sustainable long-term growth and employment. We are well on track to deliver, and even exceed, these objectives and will continue our important catalytic role to resolve the current investment and competitiveness challenges in the EU.
Our anticipated contribution to the Investment Plan for Europe is expected to be supported by an additional guarantee from the EU budget. An essential part of the partnership put forward by the European Commission is the new European Fund for Strategic Investment ("EFSI") in which we will play an important role.
We will maintain significant lending volumes throughout the period 2015-1017 including sizeable anti-cyclical contribution to support investment activities in the EU.
Outside the EU, we will stay firmly engaged to support EU policy and continue to promote private sector led growth, both by supporting access to finance for SMEs and much needed economic and social infrastructure and by providing advisory and technical assistance support.