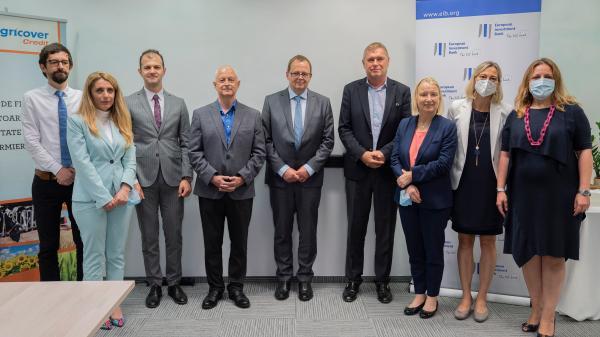 Small and medium farmers in Romania will benefit from improved access to finance thanks to new funds provided to Agricover Credit IFN by the European Investment Bank (EIB), based on the agreement formalized in 2020 for the initially approved total loan amount of €15 million.
These funds are being made available to Agricover Credit IFN, in addition to the €7.5 million first tranche already provided in 2020. The EIB financing is guaranteed by the European Fund for Strategic Investments (EFSI).
Agricover Credit IFN finances the agricultural sector and works with more than 15% of all professional farmers in Romania. It is a subsidiary of Agricover Holding S.A., which offers agribusiness and financial services to farmers through a highly integrated business model centered around satisfying the essential business needs of farmers.
This second tranche of new funds will enable Agricover Credit IFN to provide loan support to medium and small farmers, expanding its financing to facilitate the sustainable growth of agriculture and farm businesses.
EIB Vice-President Christian Kettel-Thomsen commented: "Unlocking investment in the agricultural sector is crucial to enable agribusiness to grow, harness new business opportunities and create jobs. The European Investment Bank is pleased to further strengthen our cooperation with our Romanian partner specialized and dedicated to financing farmers, Agricover Credit, through the new EUR 7.5 million financing agreed in Bucharest today."
"This second tranche of funding from the EIB consolidates Agricover Credit's position as a strategic partner for Romanian farmers, offering specialized financial support for all their development needs. Besides financing large farmers, we support very much small and medium sized farmers who need financial help to develop their farm activities in a sustainable way.
We thank the EIB for sharing our confidence in the great potential of Romanian agri-business and for supporting our successful operational model" stated Agricover Credit IFN CEO Robert Rekkers.