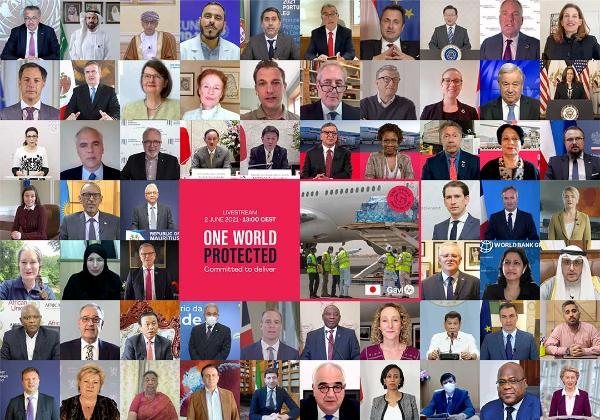 The Gavi COVAX AMC Summit "One World Protected" virtual event, hosted by the Government of Japan and Gavi, the Vaccine Alliance, raised US$ 2.4 billion from nearly 40 donor governments, the private sector and foundations, exceeding the funding target and bringing the total pledged to the COVAX AMC to US$ 9.6 billion to date
The funds raised will enable Gavi to secure 1.8 billion doses of COVID-19 vaccines for lower-income countries participating in the COVAX Facility
The vaccines, to be delivered in 2021 and early 2022, will enable COVAX to protect almost 30% of the adult population in 91 AMC economies
World leaders joined forces at the "One World Protected"- Gavi COVAX Advance Market Commitment (AMC) Summit hosted by Japanese Prime Minister Suga Yoshihide and Gavi Board Chair, José Manuel Barroso to pledge their support to the Gavi COVAX Advance Market Commitment (AMC) securing US$ 2.4 billion, reaching a total of US$ 9.6 billion for COVID-19 vaccine procurement. In addition, donors have pledged US$ 775 million for vaccine delivery.
This funding will allow the COVAX AMC to secure 1.8 billion fully subsidised doses for delivery to lower-income economies in 2021 and early 2022. This is enough to protect nearly 30% of the adult population in AMC-eligible economies. The funds raised will also support COVAX to diversify its vaccine portfolio in times of supply uncertainty and new variant emergence and to plan the scenarios and strategy for public health needs for 2022 and beyond.
"Bringing an end to the COVID-19 pandemic is the most pressing challenge of our time – and nobody wins the race until everyone wins," said Dr Seth Berkley, CEO of Gavi. "Today, as we looked back on one year of COVAX, we saw that global leaders clearly recognise the need for equitable access and support the principle that ability to pay should not determine whether someone is protected from this virus."
The European Investment Bank is stepping up to support African Union countries with an additional EUR 300 million financing to access vaccines via the COVAX cost-sharing scheme – leveraging domestic resources to procure safe and efficacious vaccines through COVAX. 
Werner Hoyer, President of the European Investment Bank: "Over the last year global cooperation, including advanced funding from the European Investment Bank, has enabled COVAX to deliver 70 million doses in 126 countries, but access remains a privilege. Today's One World Protected summit is mobilising urgent action essential to tackle the significant shortfall and increase overall financing. This will ensure that the global COVAX roll-out delivers billions of vaccines in 2021 and early 2022 to tackle COVID-19, save lives and help communities and business to return to normality. As part of Team Europe the EIB is currently working to increase its financing to COVAX, alongside backing new investment to strengthen health and economic resilience to the pandemic around the world."
President von der Leyen, President, European Commission: "To accelerate safe and effective vaccination everywhere we all need to step up efforts. This is the only way to get out of the current crisis and to prevent a new pandemic. Team Europe is investing in COVAX, both financially and by sharing vaccines. Because we believe this is the best way to ensure universal, fair and affordable access to COVID19 vaccines. Our common goal is to leave no one behind. The EU, together with the European Investment Bank, will reorient 300 million euro to COVAX. This is Team Europe's contribution to AVATT-COVAX's cost-sharing rapid finance scheme. This scheme will help vaccine purchases in Africa. And it will foster links between COVAX and the African Union."
This EIB EUR 300 million financing is the path forward towards an aggregate commitment of US$ 1 billion from Multilateral Development Banks and International Financing Institutions to support a cost-sharing initiative enabling AMC-eligible economies to use domestic resources to purchase additional vaccines through COVAX. This will facilitate them to take advantage of COVAX's global logistics system, globally negotiated volume and prices, and other critical benefits such as the No Fault Compensation Scheme.
Commitments were also made to free up supply chains and remove bottle necks that restrict or slow down the distribution of COVID-19 vaccines, raw materials and components. Vaccine manufacturers have reaffirmed their support to COVAX as the only global solution to ending the acute phase of the pandemic.
Dr Tedros Adhanom Ghebreyesus, WHO Director-General: "Vaccinating the world relies on full support for COVAX. Fully financing the Advance Market Commitment is not charity. Only by working together can we end the pandemic and start building back our global community," said Dr Tedros Adhanom Ghebreyesus, WHO Director-General. "This June, we must build on the momentum from this summit to secure COVAX the doses and funds needed to overcome its immediate supply gap and continue to build a sustainable pipeline into the future."
The Summit was an opportunity for leaders to reflect on the challenges, successes and lessons learned as Gavi COVAX AMC marks one year since its launch; and look ahead to potential scenarios to address the pandemic and bolster global health security for the future.
The pledges, commitments and support from the global community at the Summit will enable COVAX to continue working towards keeping everyone safe.
The first international delivery of doses of COVID-19 vaccines supported by COVAX arrived in Ghana on February 24. As of today, more than 77 million doses have been shipped to 127 countries across six continents. Doses shared by countries will be used to make up for COVAX's short-term supply disruption, which is expected to last into the third quarter of 2021.
Background information
Further event information is available here.
For a full list of AMC donors click here. 
The latest table of pledges to the AMC is available here
About COVAX
COVAX, the vaccines pillar of the Access to COVID-19 Tools (ACT) Accelerator, is co-convened by the Coalition for Epidemic Preparedness Innovations (CEPI), Gavi, the Vaccine Alliance Gavi) and the World Health Organization (WHO) – working in partnership with UNICEF as key implementing partner, developed and developing country vaccine manufacturers, the World Bank, and others. It is the only global initiative that is working with governments and manufacturers to ensure COVID-19 vaccines are available worldwide to both higher-income and lower-income countries.
About Gavi's role in COVAX
Gavi leads on procurement and delivery at scale for COVAX: designing and managing the COVAX Facility and the Gavi COVAX AMC and working with its traditional Alliance partners UNICEF and WHO, along with governments, on country readiness and delivery.
As part of this role, Gavi hosts the Office of the COVAX Facility to coordinate the operation and governance of the mechanism as a whole, holds financial and legal relationships with 193 Facility participants, and manages the COVAX Facility deals portfolio: negotiating advance purchase agreements with manufacturers of promising vaccine candidates to secure doses on behalf of all COVAX Facility participants.
Gavi also coordinates design, operationalisation and fundraising for the Gavi COVAX AMC, the mechanism that provides access to donor-funded doses of vaccine to 92 lower-income economies. As part of this work, Gavi provides funding and oversight for UNICEF procurement and delivery of vaccines to all AMC participants – operationalising the advance purchase agreements between Gavi and manufacturers – as well as support for partners' and governments work on readiness and delivery. This includes tailored support to governments, UNICEF, WHO and other partners for cold chain equipment, technical assistance, syringes, vehicles, and other aspects of the vastly complex logistical operation for delivery. Gavi also co-designed, raises funds for and supports the operationalisation of the AMC's no fault compensation mechanism as well as the COVAX Humanitarian Buffer.
About Gavi, the Vaccine Alliance
Gavi, the Vaccine Alliance is a public-private partnership that helps vaccinate half the world's children against some of the world's deadliest diseases. Since its inception in 2000, Gavi has helped to immunise a whole generation – over 822 million children – and prevented more than 14 million deaths, helping to halve child mortality in 73 lower-income countries. Gavi also plays a key role in improving global health security by supporting health systems as well as funding global stockpiles for Ebola, cholera, meningitis and yellow fever vaccines. After two decades of progress, Gavi is now focused on protecting the next generation and reaching the unvaccinated children still being left behind, employing innovative finance and the latest technology – from drones to biometrics – to save millions more lives, prevent outbreaks before they can spread and help countries on the road to self-sufficiency. 
The Vaccine Alliance brings together developing country and donor governments, the World Health Organization, UNICEF, the World Bank, the vaccine industry, technical agencies, civil society, the Bill & Melinda Gates Foundation and other private sector partners. View the full list of donor governments and other leading organizations that fund Gavi's work here