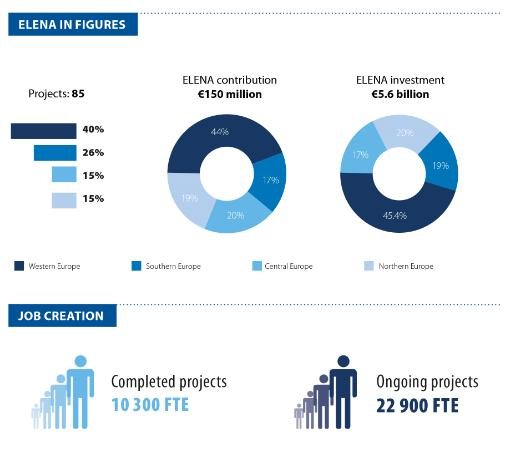 Joint EIB / European Commission support for 85 projects in Europe mobilised nearly EUR 6 billion of investments in ten years
Technical assistance for energy efficiency, renewable energy and sustainable transport projects leading to lower emissions  
Additional EUR 97 million available for energy efficiency in residential buildings
Ten years after kicking off the European Local Energy Assistance, ELENA has backed 85 cities and regions with EUR 150 million in financing. The technical assistance provided by the joint EIB and European Commission initiative helped to develop projects worth nearly 6 billion euros.
ELENA supports public and private players like local or national authorities, energy agencies and financial institutions to plan and implement sustainable and viable energy and transport projects. It does so by providing much-needed additional staff, external expertise for energy audits or financing advice.   
The initiative helps to achieve energy and cost savings, while increasing the use of renewable energy sources, which will ultimately reduce greenhouse gas emissions. Thanks to ELENA hundreds of homes in northern France and Ireland save on their energy bill every year; schools in Romania and public buildings in Slovenia saw a major cut-down in their energy consumption; conventional buses in Spain were turned into hybrids and Denmark received its first light-rail line.
ELENA's tenth anniversary was celebrated today during the EU Sustainable Energy Week in Brussels. Earlier this year, the initiative received EUR 97 million of new funding from the European Commission to support energy efficiency in residential buildings. Project development services will focus on households and homeowner associations, with a view to increasing comfort and reducing energy bills. In addition, assistance will be available to financial institutions including commercial banks to help them set up and deploy financial instruments and loan products for energy-efficiency improvements in the residential sector. Public entities can also be supported with the implementation of large-scale energy rehabilitation programmes in this sector.
During the EU Sustainable Energy Week in Brussels, EIB Vice-President in charge of Energy Andrew McDowell said at the ELENA ten year anniversary event: "The cleanest form of energy is the energy not used through energy saving investments and technologies. That's why energy efficiency is the no brainer of climate policy. But most projects are small and need technical support for preparation and implementation. That's why the EIB is committed to further strengthening the decade-long ELENA partnership with the European Commission."
European Commissioner for Climate Action and Energy Miguel Arias Cañete said: "With the Clean Energy for All Europeans package, the EU's commitment to the energy efficiency first principle is now part of the EU legislation. But it is clear that legislation cannot do it all. ELENA is a key enabler to unlock the massive investments needed from both public and private stakeholders, providing very concrete support to help deliver on our clean energy transition objectives."
The President of the European Committee of the Regions, Karl-Heinz Lambertz, said: "Europe's regions and cities are showing ambition, scaling-up their efforts and driving forward the clean energy transition. Whether it be sustainable transport, energy efficient homes or renewable energy, for 10 years ELENA has been uncompromising in supporting regions and cities decarbonise our economy. Through our renewed joint action plan, the European Committee of the Regions and the EIB will continue its support for local and regional governments to deliver the sustainable energy transition locally."
"We have received a large number of French and European delegations keen to know more about the ELENA initiative," said Alice Morcrette, Director of Picardie Pass Rénovation. "Given their interest and the growing success of Picardie Pass Rénovation, I think that similar systems can be rolled out in other regions in France and Europe." With the help of ELENA, the Picardie Pass Rénovation programme developed a one-stop shop approach that made energy efficiency affordable for hundreds of homes in the French region. The success of the programme in improving energy efficiency has attracted interest from other regions. The Tipperary Energy Agency based in County Tipperary in the Irish Republic modelled its energy efficiency plan on the Picardy model.
Alenka Loose, the energy manager for the city of Ljubljana said: "We had used energy poorly and we faced problems that were going to be very time-consuming. We were not prepared to take on a project of this size." ELENA helped the city create a EUR 50 million budget for upgrades and schedule renovations for 70 public buildings, including schools, libraries and health centres. The project, completed in December 2016, included new insulation, energy efficient windows, boiler replacement, retrofits of cooling and heating systems, and the installation of small renewable energy sources (PV). Loose says the project has had the desired impact: "The occupants of buildings are already noticing the savings. This is better for the environment and more comfortable for people working in these places."
Background information:
More information:
Solutions for Energy Efficiency – 10 years of ELENA
European Commission on energy efficiency: https://ec.europa.eu/energy/en/topics/energy-efficiency/financing-energy-efficiency.
For European Local ENergy Assistance (ELENA), please consult the dedicated website: www.eib.org/elena.