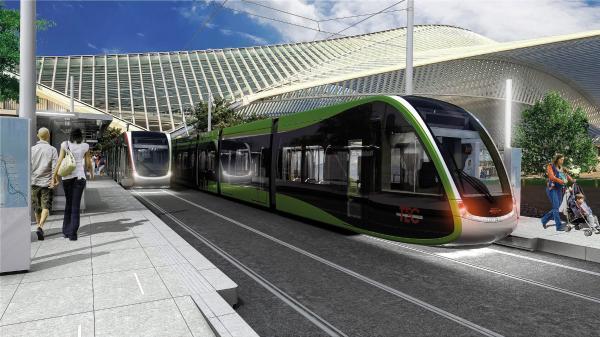 An EIB loan of around EUR 200m to Tram'Ardent under the Juncker Plan for Liège's future tram
First large-scale public private partnership (PPP) in the Walloon Region
This major infrastructure project for the city and the region is designed to enhance traffic flow, facilitate travel, improve air quality and residents' quality of life
The city of Liège in Belgium will be able to breathe better with improved traffic flow thanks to a revamped transport service with the tram system at its heart. This PPP project is now on track thanks to the support of both the EU, via the EIB and the Juncker Plan, and sound financial partners.
The European Investment Bank (EIB) has signed a finance contract worth around EUR 200m with the Tram'Ardent consortium, the service provider chosen by the Walloon Region, which will supply the rolling stock and be responsible for the construction and maintenance of a maiden 11.5km tram line serving Liège city centre. Covering almost 50% of the total project cost, this very long-term loan, spread over three decades, is guaranteed under the European Fund for Strategic Investments (EFSI) – the financial pillar of the Juncker Plan – deployed by the EIB.
The new tram system is intended to trigger a major shift in the city of Liège, i.e. encourage its inhabitants to favour public over private transport, which is expected to not only reduce travel times within the city but also cut CO2 emissions and enhance the quality of life in the city. A revised urban development plan with the tram project at its heart will aim to improve the living conditions and comfort of the users and residents.
EIB Director General Jean-Christophe Laloux said at the official ceremony in Namur on 31 January 2019: "I am pleased to announce that the EIB has mobilised the resources of the Juncker Plan for the financing of this project. This cooperation between the European Commission and the EU bank will help to improve the lives of the people of Liège in practical terms. This commitment alongside our Liège tram partners is the very essence of the European project, working for the benefit of the people."
EU Transport Commissioner Violeta Bulc stated: "I am very happy for the people of Liège who, thanks to the support of the Juncker Plan, will have a modern, rapid tram line serving the city centre. The tram should also help the entire city to breathe better thanks to the improved quality of air. This project, which promotes clean urban mobility, contributes directly to our EU 'net zero emissions by 2050' target and I hope that it will inspire other European cities."
Information about the Liège tram: https://letram.be/
This operation with Tram'Ardent in support of the Liège tram comes under the EIB's priority objectives to develop sustainable transport and combat climate change.
Further details are available at: http://www.eib.org/fr/projects/sectors/transport/index.htm
http://www.eib.org/fr/projects/priorities/climate-and-environment/climate-action/index.htm