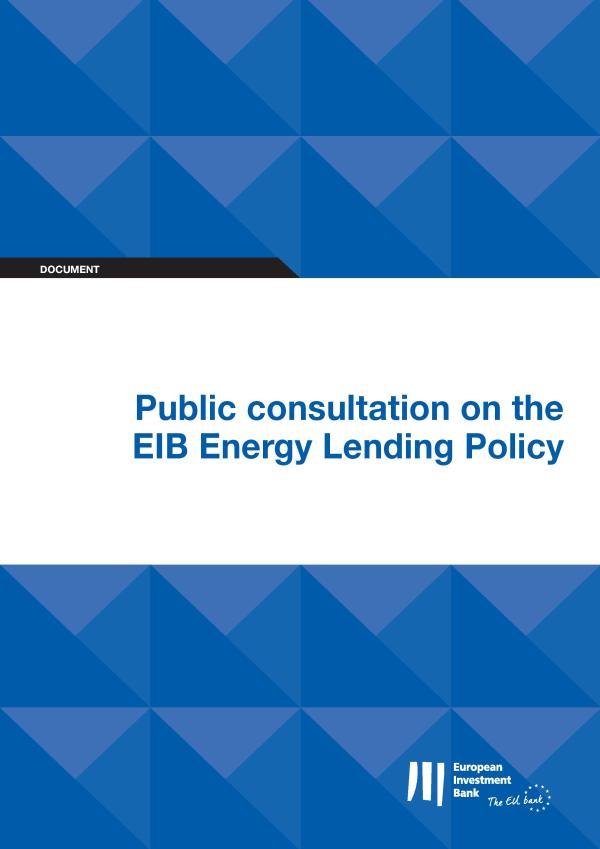 Three month public consultation of EU Bank energy financing
Dialogue with industry, civil society and policy bodies to better reflect energy industry trends and enhance EIB support for EU energy and climate goals
Review of future energy lending to guide billions of future financing to sector
One of the largest financiers of global energy infrastructure, the European Investment Bank, has launched a new public consultation of financial and advisory support for the sector, to strengthen the impact of its future energy lending.
"Europe is at the forefront of transformation in the global energy sector and rapid technological change, and is committed to ambitious 2030 energy and climate targets and long-term decarbonisation by 2050. As the EU Bank, the European Investment Bank has a unique technical and financial experience supporting energy projects and backing EU energy and climate policy. Over the coming months my colleagues and I will work closely with stakeholders to see how the impact of the EIB's energy investment can better reflect and accelerate this change. I am looking forward to discussing with energy experts from a broad range of stakeholders in February how the EIB can strengthen support for ongoing transformation in the energy sector in the years ahead." said Andrew McDowell, European Investment Bank Vice President responsible for energy.
Three months consultation process
Over the next three months, the EIB will engage with a wide range of stakeholders, including shareholders, industry associations, civil society and the private sector to develop a new energy lending policy that supports EU 2030 energy policy and climate targets.
Dialogue with stakeholders will reflect on recent EIB support for energy investment and consider key trends and investment challenges currently facing the sector.
The consultation will include examining how future EIB backed investment can reduce energy consumption through energy efficiency, better support renewable power generation, improve financial and advisory backing for energy innovation and secure infrastructure essential for energy transition.
The discussion will also include specific considerations on supporting energy investment in developing and emerging economies outside Europe.
The EIB will host a public consultation meeting in Brussels in February, followed by consideration of the new Energy Lending Policy by the EIB's EU member state shareholders later in the year.
Building on 2013 energy lending review which strengthened clean energy investment
The new policy will replace the EIB's Energy Lending Criteria adopted six years ago in the context of Europe's 2020 targets that ensured strengthened support for clean energy finance including renewable energy, energy efficiency and related electricity grids.
The 2013 review introduced a new Emissions Performance Standard. This has since been applied to all fossil fuel power generation projects to screen out investment where carbon emissions exceed a threshold level reflecting EU and national commitments to limit carbon emissions.
The public consultation process launched in October 2012 enabled the detailed contribution of a broad range of over 80 stakeholders, including shareholders, industry associations, civil society and the private sector to be taken into account. This followed an earlier energy sector review in 2007. Feedback reflected both economic challenges facing the energy sector and concerns about emissions.
Review to build on new European Union energy policy
The public consultation of EIB support for energy investment follows the finalisation of the new European Union legislative framework - Clean Energy for All Europeans. The revised EU policy represents a significant step towards the creation of the Energy Union and delivering on the EU's Paris Agreement commitments and is designed to ensure that the European internal energy market delivers investment needed for clean, affordable and secure energy over the next decades.
The new EU energy policy packages seeks to facilitate the energy transition and fixes two new targets for the EU for 2030: a binding renewable energy target of at least 32% and an energy efficiency target of at least 32.5%.
These ambitious targets are expected to stimulate Europe's industrial competitiveness, boost growth and jobs, reduce energy bills, help tackle energy poverty and improve air quality.
The European Investment Bank is one of the world's largest energy lenders. In the last five years the EIB has provided more than EUR 49 billion for energy investment across Europe and around the world, including financing for 30 European Projects of Common Interest.
More details and background information about the Public consultation on the EIB Energy Lending Policy can be found here