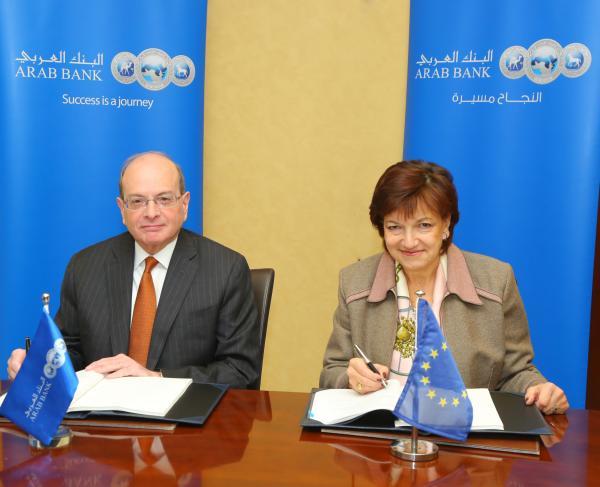 The European Investment Bank (EIB) and Arab Bank has signed a financing agreement of EUR 300 million to support small- and medium-sized enterprises (SMEs) and midcaps in Jordan, Egypt, Lebanon, Morocco and the West Bank. The operation comes under the EIB's Economic Resilience Initiative (ERI), aimed at enhancing the prospects for more resilient and inclusive growth as well as creating sustainable employment opportunities in the region. This new credit line brings the overall EIB finance to private sector development in the EU Southern Neighbourhood region to EUR 1.8 billion over the last two years.
The finance agreement is the first EIB's regional credit line for small and medium businesses in the selected countries. The EIB's financing will be channelled by Arab Bank at rates affordable to small and medium businesses in the region, thereby enhancing economic growth through catalysing and accelerating private investment.
Arab Bank is the leading bank in Jordan and a primary provider of banking services in the Middle East and North Africa, thus supporting economic development and trade across the region. Arab Bank is present in key financial markets and centres such as London, Dubai, Singapore, Geneva, Paris, Frankfurt, Sydney and Bahrain.
The EIB – Arab Bank partnership further builds on the strengthened commitment of the EIB to support economic development and stimulate private sector-led growth and job creation in the region in the context of the ERI. Requested by the 28 EU Member States, ERI is part of the response by the European Union to the challenges posed by forced displacement and migration in the region, with a focus on tackling the longer-term causes of migration. It aims to boost economic resilience, create opportunities for employment and improve both daily living conditions and the business environment in the region by stimulating investment in the private sector and vital infrastructure in the EU Southern Neighbourhood and Western Balkan countries.
European Union Ambassador to Jordan, H.E. Andrea Matteo Fontana, stated: "The EU is supporting Jordan in its ongoing efforts to reinforce the stability and resilience of its economy. We work together with the national authorities, the civil society and the financial sector to support private sector and improve access to finance so that all segments of the population in Jordan – including women, youth and refugees - can equally pick from better and more options to improve their financial and job perspectives."
Commenting on this landmark transaction, Flavia Palanza, Director of EU Neighbouring Countries at the EIB, said: "We are delighted to establish this new partnership with the Arab Bank. Our cooperation will contribute to speed up the delivery of vital finance to support the investments of small and medium enterprise in Jordan, Egypt, Lebanon, Morocco and the West Bank. SMEs play an important role in job creation, innovation and sustainable economic growth. As the Bank of the European Union, our aim is to contribute to building stronger and resilient economies that create jobs. Supporting private sector in the EU neighbourhood region is a priority under the Bank's Economic Resilience Initiative."
Arab Bank's CEO Mr. Nemeh Sabbagh said: "We are honoured to join the EIB in this very special initiative, which is fully aligned with our constant efforts towards supporting economic growth and development in Jordan and our region. The support for the SME sector is also a key priority of governments throughout the MENA region, and with Arab Bank's unique footprint in this part of the world, we are proud to be able to contribute to the overall success of this sector."