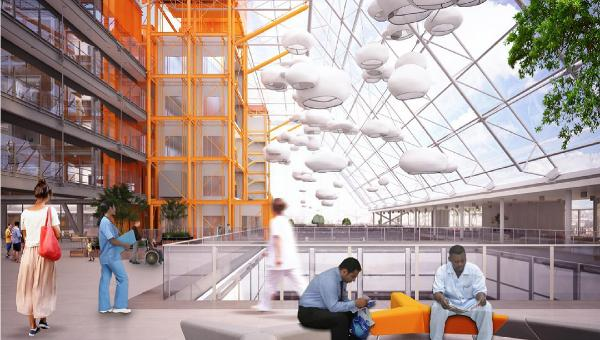 The European Investment Bank, Europe's long-term lending institution, has agreed to provide GBP 107m to support construction of the new Midland Metropolitan Hospital in Birmingham. Once open in three years' time the brand new hospital will provide state of the art acute healthcare for 530,000 people living in Sandwell and West Birmingham and include one of the largest accident and emergency departments in Europe.
The new hospital scheme, costing GBP 340m, includes 670 beds and 15 operating theatres, as well as a new public park, reached financial close following an agreement between the Sandwell and West Birmingham NHS Trust and developers Carillion. The new accident and emergency department will replace emergency care facilities at City Hospital and Sandwell and is expected to treat more than 140,000 patients a year.
This construction project is the first hospital to be supported by the new European Fund for Strategic Investments (EFSI), the heart of the Investment Plan for Europe, intended to generate EUR 315 billion of new investment across Europe.
"Investment in new hospitals is essential to ensure that patients benefit from access to world-class treatment and facilities. As part of our commitment to improve healthcare and social infrastructure across UK the European Investment Bank is pleased to provide GBP 107 million for the new Midland Metropolitan Hospital. This will transform acute healthcare in the West Midlands by providing both one of the largest and busiest accident and emergency departments in Europe on a former industrial site. The new super hospital will ensure the latest standards of healthcare and patient dignity for thousands of patients using the hospital each year. This investment will also act as a catalyst for wider economic regeneration in Sandwell and Birmingham." said Jonathan Taylor, European Investment Bank Vice President.
"Today we have signed the contract to build and deliver the Midland Met by October 2018 with 'The Hospital Company' - a Carillion Joint Venture. This is another landmark day for the people of Sandwell and West Birmingham, who now know for certain that their multi-million pound hospital will be built, and at a significantly lower cost than was originally planned. The outline business case in 2014 anticipated an annual unitary payment of £27m, however we have closed the contract with an annual unitary payment of under £20m. We are also pleased to have signed the contract some four months earlier than we aimed for, and look forward to the Midland Met being handed over in July 2018 and opening in October 2018." said Richard Samuda, Chairman of the Sandwell and West Birmingham Hospitals NHS Trust.
"Innovative social infrastructure projects, such as this new teaching hospital in Birmingham, is one of the key objectives of the Investment Plan for Europe. I'm extremely pleased that with a small amount of backing from the EU budget, the residents of Birmingham will benefit from improved healthcare and shorter waiting times." added Jyrki Katainen European Commission Vice President, responsible for Jobs, Growth, Investment and Competitiveness.
Work on the new Midland Metropolitan Hospital is expected to start in 2016 and the new hospital in Grove Lane, Smethwick will bring together all acute services onto one site to provide state-of-the-art treatment and care for patients from Sandwell and across the region.  This will lead to a merger of the current two Emergency Departments, at City and Sandwell Hospitals, on to the single site promoting better patient safety and patient experience. 
This is the first healthcare project to be backed by the new European Fund for Strategic Investments (EFSI), the heart of the Investment Plan. EFSI was established earlier this year by the European Investment Bank and the European Commission to enable increased lending crucial projects by the European Investment Bank in strategic sectors such as renewable energy, digital infrastructure, social infrastructure, transport and R&D; as well as financing for SMEs. Since the start of EFSI more support for projects in the UK have been approved by the board of the European Investment Bank than in any other country.
In the last decade the European Investment Bank has provided more than GBP 2 billion for investment in new UK hospitals at Papworth, Alder Hey and Royal Liverpool, Southmead, Dumfries and Galloway, North Staffordshire, Manchester and the Royal Hospital for Sick Children in Edinburgh.
The European Investment Bank is also supporting redevelopment of the campuses at Birmingham University and Aston Universities, as well as crucial investment in the regional water network by Severn Trent with the largest ever loan to the UK water sector earlier this year. 
Fly through of the latest new Midland Metropolitan Hospital! (video)