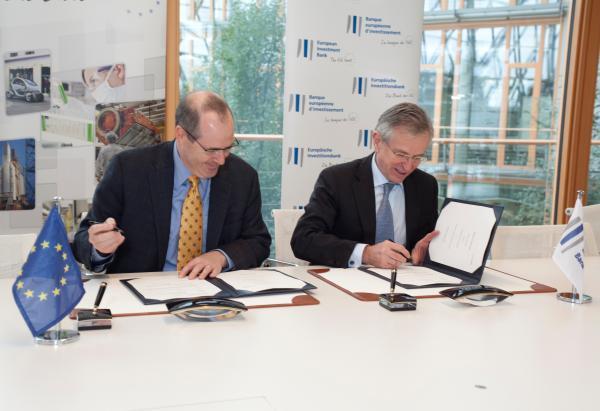 Borealis, a leading provider of innovative solutions in the areas of polyolefins, base chemicals and fertilisers, is receiving support from the European Investment Bank (EIB) for further research and development (R&D) in the field of plastic raw materials, i.e. polymers. With a long-term EUR 150 million loan, the EU bank is helping to finance product innovation in the area of advanced polymers.  The two parties signed the loan contract in Luxembourg.
Borealis has customers in over 120 countries and around 6 200 employees worldwide. Together with Borouge, a joint venture with the Abu Dhabi National Oil Company (ADNOC), Borealis provides products and services to its customers throughout the world. Using the proprietary Borstar® und Borlink™ technologies and with 50 years of experience in the field of polyolefins (polyethylene and polypropylene), Borealis and Borouge supply products to key industries in the areas of infrastructure, automotive engineering and advanced packaging. 
With this loan, the EIB is supporting Borealis's multi-annual investment programme at the company's Innovation Headquarters in Austria as well as in Finland and Sweden where it has other innovation centres. The project focuses primarily on product innovation in the area of advanced polymers. In addition, the funds will be used to finance the firm's vocational training programme.
Borealis is receiving this loan under a financing programme implemented jointly by the EIB and the European Commission. This so-called Risk-Sharing Finance Facility is an innovative instrument for sharing credit risks. It is aimed at improving access to external financing for private companies and public institutions promoting projects presenting a high financial risk in the fields of R&D, demonstration and innovation. The financing of R&D is one of the EIB's top priorities. In the past year alone, its total lending in this area amounted to EUR 15.6 billion.
At the signing of the loan contract, Wilhelm Molterer, EIB Vice-President responsible for lending operations in Austria, stated, "Borealis demonstrates how well corporate research activities and the training of young people go hand-in-hand. An economically strong and competitive Europe needs both: innovative industries and a well-trained labour force. Here Borealis is making a major contribution, which the Bank is pleased to support with its loan.
"For Borealis, this new cooperation with the EIB represents a milestone in its investment in research and development in Europe", said Daniel Shook, CFO of Borealis. "We are delighted to secure the EIB as a first-class partner for the financing of Borealis's R&D innovation centres in Austria, Finland and Sweden."