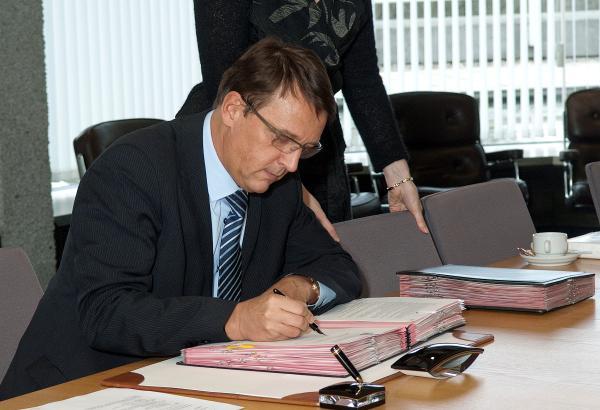 The European Investment Bank (EIB) is lending EUR 100 million to finance a 2011 to 2015 investment program of Johnson Controls Inc. (JCI) to support research and development (R&D) and innovation activities of the company's Automotive Experience business in Central Europe. The funding will be shared between Johnson Controls planned R&D investments for the company's Technology Centre in Trenčín, Slovakia, and in advanced software development projects at Johnson Controls' Sofia-based Electronics Development Centre in Bulgaria.
The current loan is the first operation of the EIB with Johnson Controls, a global leader in automotive seating, overhead systems, door and instrument panels, and interior electronics for more than 30 million vehicles per year from over 250 locations globally. In Central Europe, Johnson Controls Automotive Experience has been fostering growth of innovations since the early 1990's and today operates over 30 locations in Eastern Europe, including countries like Bulgaria, Slovakia, the Czech Republic, Hungary, Poland, Slovenia, Romania or Russia.
After opening a Bulgarian operation to develop software solutions for the automotive industry in 2001, Johnson Controls established an Electronics Development Center in Sofia in 2006. Technologies and software solutions designed in Bulgaria include driver information systems, infotainment and connectivity products, body electronics and the integration of software solutions to operate these products.
Johnson Controls Technology Center in Trenčín, Slovakia, was established in 2004, and focuses on the design and testing of automotive interiors and seating systems and components. Furthermore, it extends Johnson Controls' engineering network by including the Eastern European growth markets as a response to the car manufacturers' growing presence in this region.
EIB Vice-President Anton Rop, responsible for lending operations in Central Europe, commented: "The investments will contribute to further develop the competitiveness of the automotive sector that plays a vital role in the national economies of the countries of the central European region in terms of the contribution to the GDP creation and providing of employment possibilities."
Dr. Reiner Spatke, Vice President Government Relations Europe at Johnson Controls stated: "Johnson Controls has established excellent R&D structures in Central Europe. We appreciate the talent and know-how of our engineering and development staff in this important region, complementing the global Johnson Controls engineering expertise and collaborating closely with our product development resources in the United States, in Germany and France. We look forward to rolling out our EIB-supported investments to enhance our approach to R&D and innovation forward".
Background notes:
European Investment Bank (EIB)
The mission of the EIB, the European Union bank, is to contribute to the integration, balanced development and economic and social cohesion of the EU Member States by financing sound investment. Within the enlarged European Union, the prime EIB lending mandate is to support investment promoting economic activity in regional development areas – the less advanced regions of Europe including the Member States that joined the Union after 2004. The objective of the EIB, as the EU's policy-driven bank, is to help close the gap between more and less advanced regions in the Union. Foreign investment plays an important role in this, given the potential for improving living standards and is therefore a high priority of the EIB.
Johnson Controls
Johnson Controls is a global diversified technology and industrial leader serving customers in over 150 countries. Our 130,000 employees create quality products, services and solutions to optimize energy and operational efficiencies of buildings; lead-acid automotive batteries and advanced batteries for hybrid and electric vehicles; and interior systems for automobiles. Our commitment to sustainability dates back to our roots in 1885, with the invention of the first electric room thermostat. Through our growth strategies and by increasing market share we are committed to delivering value to shareholders and making our customers successful.
Johnson Controls Automotive Experience
Johnson Controls is a global leader in automotive seating, overhead systems, door and instrument panels, and interior electronics. We support all major automakers in the differentiation of their vehicles through our products, technologies and advanced manufacturing capabilities. With more than 200 plants worldwide, we are where our customers need us to be. Consumers have enjoyed the comfort and style of our products, from single components to complete interiors. With our global capability we supply more than 30 million cars per year.