Two Polish fibre projects aim at digital transformation in less-dense areas, boosting the regional economy and having a positive effect on the environmental
The crystal-clear rivers and scenic towns of central and north-eastern Poland are favourite travel destinations. But the deep woods, the winding valleys and the lakes hinder access to robust internet services.
That's a problem at a time when teleworking is increasingly important and other vital digital services require high connection speeds. A few Polish companies are working to correct this lack of connectivity with new rural fibre networks. "We are investing inventing a unique product that did not exist on the Polish market," says Jacek Wiśniewski, whose company Nexera is bringing fast digital connections in the places where no one else has dared to do so before.
Another Polish company, Światłowód Inwestycje (S.I.) is also preparing rural Poland for a digital future. By 2025, the two companies will deploy so-called fibre-to-the-home access networks reaching over 3.1 million addresses (2.4m for S.I. and 0.7m for Nexera), including households, businesses and schools. "We aim to further contribute to the digitisation of Polish economy and help tackle the existing digital divide," says Magdalena Russyan, CEO at S.I.
But building a fibre network is costly. It requires attaching each house to a physical strand of fibre. The European Investment Bank is backing both companies with two separate loans aiming to boost the spread of technology that's important to Europe's future in regions where it's risky to invest.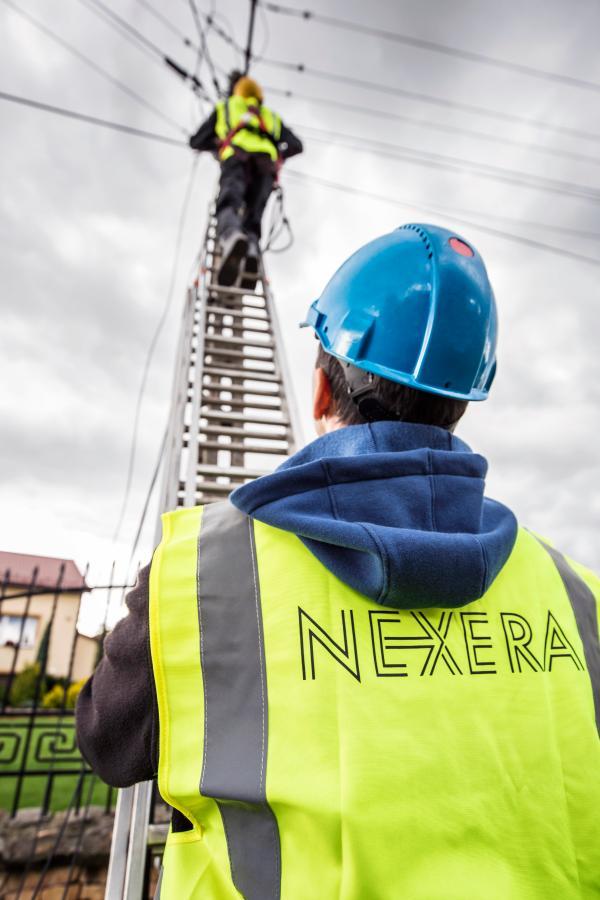 Polish fibre projects offer fast and green rural connections
Fibre-to-the-home (FTTH) technology connects optical fibre directly to individual buildings, such as residences and business buildings.This increases dramatically the connection speeds and quality of connectivity available to connected devices and their users compared with typical cable modem or digital subscriber connection. Its signal isn't slowed down by physical barriers common in rural areas, such as hills or thick woodland. Fibre offers up to 100 times faster broadband speed than former technologies.
Fibre is also a greener Internet solution. The FTTH technology helps customers reduce their energy consumption and carbon footprint. "It is about five times more energy efficient per gigabyte than older, copper based technologies," says Monika Tenerowicz, head of media relations at Orange Polska, one of the co-owners of S.I. The networks can be also upgraded without having to replace the fibre and their maintenance costs are minimal, because the optical fibre cables do not degrade. "Fibre is future proof," says Tenerowicz.
What are the benefits of Fibre-To-The-Home (FTTH) technology?
More Bandwidth
Greater Reliability
Future Flexibility
Cost Efficiency
Added Value
European support for the Polish fibre projects
Installing fibre networks on a large scale requires enormous investment, however. Operating in rural areas, where there are fewer customers per mile, companies can't spread their network costs across millions of customers. "You need capital investment to extend your footprint and connect end-users," says Wiśniewski.
The European Investment Bank's €76 million financing for Nexera is backed by the European Fund for Strategic Investments, a guarantee from the EU budget which "allows the EIB to increase its support for risky projects that go beyond the usual EIB's own risk-bearing capacity," says Pawel Lewandowski, an EIB loan officer for Poland. The EIB loan will help Nexera connect around 530 000 households and 1 400 schools by 2023.
The EIB also provided about €130m loan to S.I. in August. With the EIB financing, the company will be able to reach the ambitious goals of 2.4 million of households and offer faster internet in both bigger cities and small towns.
Digitalisation and cohesion through Polish fibre projects
Poland is among the least digitally advanced countries in Europe. This has severe implications for the citizens of rural areas, who for example cannot enjoy telehealth facilities and teleworking options. It is also a problem for kids and students, who have limited access to online learning. "The COVID-19 pandemic increased the demand for high-speed internet inside and outside the cities," says Magdalena Russyan, CEO at S.I. "We felt that it would be the best option for us to grow our fibre footprint."
Both projects have huge regional potential. They could cater to the growing data transfer needs of rural areas for entertainment, education, communication, and professional purposes. "Fibre will have a positive impact on the healthcare and education of the citizens of these regions," says Anders Bohlin, a senior sector specialist at the European Investment Bank. "It will lead to a regional digital shift."
The projects may also boost regional economic development, contributing to the EIB's "cohesion" mission, which is intended to reduce disparities between EU regions. "Fibre attracts people to commute and telecommute to rural areas," says Bohlin. "It also allows citizens to access new job opportunities, job training, and start new enterprises targeting local communities in local areas. It will make rural areas more attractive and competitive."