Czech company's food recycling app and smart cups let stores dispense products to customers without using packaging
A Czech company is asking a simple question: Why not redesign the supply chain to eliminate wasteful single-use packaging before it's created?
MIWA, shorthand for Minimum Waste, has created packaging that eliminates the typical plastic and paper containers used in grocery stores and in transport. Systems like MIWA's could help reduce much of the nearly 175  kilograms of packaging waste generated by each person in the  European Union every year.
MIWA was founded by Petr Baca, a former consultant for corporations like Proctor & Gamble and Nestlé. He says his children inspired him to do something about sustainability, and his work in the packaging design industry made him aware of the scale of waste in conventional packaging.
"I thought that with the help of today's technology, it must be possible to produce, transport, sell and buy goods without the need for single-use packaging for each part of the supply chain," he says.
The company, based in Prague, makes sturdy plastic containers that can be packed with items like lentils, pasta, and cereals, pet food and washing powder. These containers, which MIWA refers to as capsules, go directly from shipping into retail stores to dispense products directly to shoppers.
Smart cups close the loop in recycling
The capsules are designed to make efficient use of space, from packing to shipping to being set up in retail stores. Each capsule has a tiny chip that relays information about the contents: the type of product, expiration date, source of production, nutrition, and even recipes. All this information is registered online.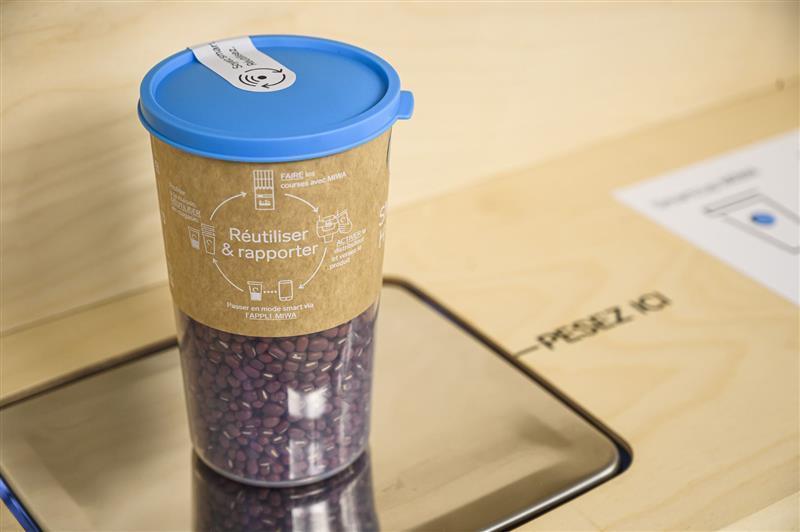 People can do their shopping with reusable "smart cups" that communicate with the capsules in the stores. When shoppers buy a product, they can use the MIWA app to receive all the information about the product, and even information about the cup itself — including how many times it has been used.
People can reuse the cup or return it for a new one when they come back to the store. In between uses, MIWA cleans and prepares the capsules and cups. If a capsule or a smart cup wears out or is broken, it's returned to MIWA to be recycled.
MIWA was a finalist in the 2018 Social Innovation Tournament, sponsored by the EIB Institute to promote creative projects that help the environment and society. The company has won several other awards, including a New Plastics Economy Innovation Prize from the Ellen MacArthur Foundation.
Advances in tracking inventory
The company, founded in 2015, has grown to 20 people and is operating in the Czech Republic, with pilot programs in Switzerland and Austria. MIWA plans to expand to other European countries. Nestlé stores in Switzerland are using MIWA capsules and cups for two products — Purina pet food and Nescafé.
Ivana Sobolikova, an executive with MIWA in charge of investor relations and impact, says the digitized system is quite different from other bulk dispensers commonly used in grocery stores. The MIWA system has distinct advantages, especially for large brands that have high standards of hygiene and quality control.
"First of all, it helps tracking and managing the pool of capsules," she says. "That's quite important for any reusable packing system" — ensuring that just the right number of capsules and cups are in circulation and that individual units aren't lost.
The products can be traced easily, she says. "If for instance there is a contamination of a product batch, we can very easily find out where all the capsules that were filled with this batch are located, and we can quite easily make the recall, or even lock capsules already on a shelf."
Ivana says the timing is good for MIWA. In addition to helping companies meet goals and satisfy regulations aimed at reducing packaging waste, MIWA's approach is something many people want: a step closer to waste-free shopping.
"Consumers are actively seeking more sustainable ways of living, and that includes sustainable packaging," she says.