Bremen-based OHB moves toward a light electrically propelled satellite that's cheaper for commercial users than current models with chemical propulsion
Think of space missions and your memory probably snaps to household names like NASA, Soyuz, or Neil Armstrong. But one of the developments in space that may have the biggest impact on your future is taking its next steps at a relatively small, family-owned company in Bremen, Germany.
OHB System is working on a satellite that's propelled by electricity, rather than the current method, which relies on a considerable mass of chemicals. The company believes this change will lead to a satellite that can carry telecommunications equipment into space at a far lower cost than existing satellites. "This is a revolution in satellite technology," says Andreas Lindenthal, OHB's chief operating officer. "It's driven by a new maturity in electrical propulsion systems."
Finding an orbit for electric satellites
Satellites carry a range of equipment—for observation or telecommunications, for example. But before they're able to deliver any information, they have to be placed in the correct orbit. That's where the propulsion system comes in.
The satellite detaches from the rocket that has taken it into space. It then uses its own power for the delicate job of finding its orbit. Until now that power came from a great mass of chemical propellant. The chemicals took up most of the space on the satellite.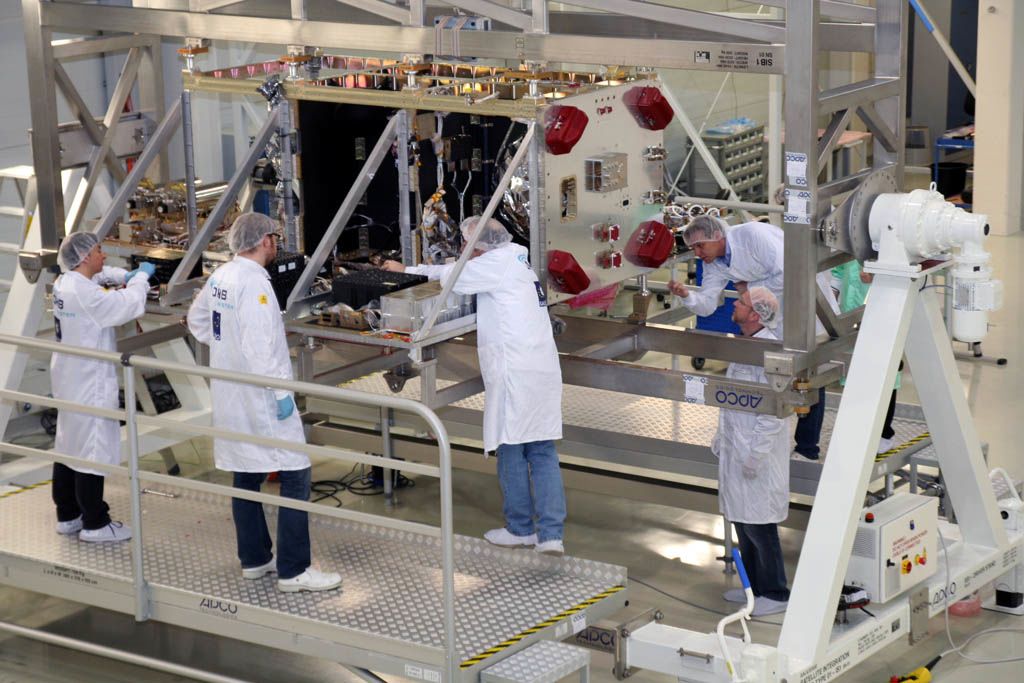 OHB technicians assemble one of its satellites
Electric satellites leave more space for payload
In 2015 Boeing launched the first electric-powered satellite. The electric system has much less thrust, so it takes a lot longer to get the satellite into its orbit position. OHB believes it has resolved that issue by devising a satellite that can be built more quickly. The time that's lost by the electric propulsion is made up in faster construction.
The result: a satellite that doesn't have to load up on chemical propellant. That leaves much more space to fill the satellite with, for example, a payload of telecoms equipment. For commercial operators of satellites, the satellite then becomes a far more efficient proposition. "For the same price, you get 2.5 times the payload," Lindenthal says. "Electric propulsion is a huge efficiency improvement."
Electric satellites innovation gets Investment Plan finance
It's the combination of an innovative platform and the strategic value of a European competitor for Boeing that convinced the European Investment Bank to loan EUR 30 million to OHB. The loan, signed 19 December, is backed by the Investment Plan for Europe's European Fund for Strategic Investments. "The satellite that OHB is developing will have a huge impact on the European space industry," says Sandra Schmidt, the EIB loan officer who worked on the deal. "It will carry products into space that will have an impact on all of us."
OHB, which had 2015 revenues of EUR 700 million, is considerably smaller than the two biggest space technology companies in Europe. Revenue for Airbus Defence and Space was EUR 13 billion in 2015. At Thales Alenia Space, revenue was EUR 6.3 billion.
Space Age and family-owned
The company is owned by the Fuchs family. Italian-born Manfred Fuchs and his German wife Christa bought the company as a small shipping outfitter in the 1980s. They turned it into a space technology enterprise. Manfred died in 2014, though Christa still heads the supervisory board. The current chief executive is their son Marco.
The OHB electric satellite is to be modelled on its SmallGEO satellite, which is chemically propelled. Despite the name, at 3.2 tons it isn't so very small. The electric version, named Electra, is part of a programme sponsored by the European Space Agency, which is headquartered in Paris. Once OHB has completed its research and development, it will load the satellite with equipment from Luxembourg-based SES, a global satellite communications company.
Once in space, the OHB satellite's electric system will be powered by solar panels. "It's an important step in support of EU space policy," says Manuel Tarazona Cano, an EIB engineer who focuses on telecom deals. "The aim is to have independent European access to space."